Charles Carroll was an American politician, a delegate to the second Continental Congress, and a signer of the Declaration of Independence.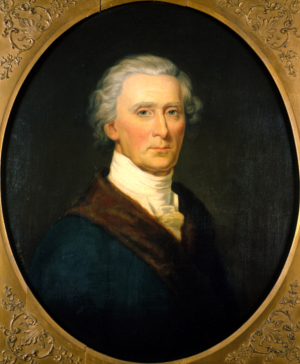 Charles was born on September 19, 1737 in Annapolis, Maryland. As a child, Charles studied at Bohemia Manor preparatory school. In 1748, he was sent to France to continue his schooling, moving on to college there as well. Charles graduated from Lycée Louis-le-Grand, after attending the College of St. Omer, in 1755. He then studied for law in Europe, before he returned to the colonies in 1765.
There is a surviving tale of Charles Carroll that, while likely untrue, gives an idea to his character and bravery. Signing the Declaration of Independence was a risky thing to do, and automatically would have told King George III who the main troublemakers were. Some with uncommon names, (Button Gwinnett, for example, had no hope of escaping notice. Others, like James Smith, could hide behind their relatively common names.
According to the story, Charles Carroll signed the Declaration, and several members of Congress commented that he had very little risk in signing since he could remain relatively anonymous. At these statements, Charles stood back up and added "of Carrollton" to the end of his signature, which left no doubt of who he was and silenced his critics.
However, early documents show that Charles had been signing his name like that for years before Congress, so this story is likely a myth.
On June 5, 1768, Charles married Mary Darnall. They had 7 children before Mary died in 1782. Upon returning to Maryland, Charles' father gave the couple a plot of land, Carrollton, to start a plantation. It was not long before Charles Carroll had become one of the wealthiest men in the colony. Because he was a Roman Catholic, he was prohibited from entering politics, voting, or practicing the law.
Around 1772, Charles became very interested in the the growing political unrest surrounding him, and started publishing a series of patriotic writings. Once his identity was discovered, he grew in popularity until Carroll was elected to be a member of the Maryland Committee of Correspondence in 1774. His religion was overlooked, and in 1776, he was asked to go as a delegate to the Continental Congress. He arrived too late to vote for independence, but he signed the Declaration of Independence. After Thomas Jefferson and John Adams' deaths, Carroll was the last surviving signatory of the Declaration.
In 1778, Carroll returned home and took up his part in helping form this new government. After the War, he was elected to the United States Senate. In 1792, however, a law was passed that men could not serve in the United States Senate and their state senate at the same time. Because he loved serving in his state, Charles Carroll resigned from the United States Senate.
Charles retired from all public work in 1801 and returned to his home, which he loved so much. He spent his remaining years dabbling in different political issues that should arise. He passed away on November 14, 1832 at the ripe old age of 95.