George Walton, one of three Georgia representatives to sign the Declaration of Independence, also happened to be the youngest signer of this famous parchment.
Early Life & Career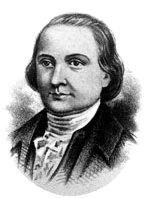 George Walton, signer of the Declaration of Independence.
Public domain image.
While we are sure that Walton was the youngest signer, his exact birth date is not known. It is believed that he was born in Virginia in either 1749 or 1750. He was raised by his uncle because his parents died while he was a young boy. His uncle was a carpenter, and passed the talent and skill onto young George.
In 1769, Walton decide to moved to Savannah, Georgia to pursue a career in law. While mostly self-educated through his youth, George learned well in his new field. By the time the early stages of the Revolutionary War were brewing, he was one of the top lawyers in Georgia. He soon became deeply involved in the patriot movement in Georgia.
Politics & War
Upon the formation of the Georgia provincial Congress in 1775, Walton was elected Secretary. The following year, he became President of the Council of Safety. He was elected to the Continental Congress that same year where he served for four years.
He also served as a colonel of the First Regiment of the Georgia Militia during the Revolutionary War. In December of 1778, he was wounded in battle and taken captive by the enemy. He was held as a prisoner of war for nearly a year until he was freed in a prisoner exchange in October of 1779.
He carried on with his political career and was appointed to the Superior Court of Eastern Judicial Circuit as a Judge. He held this position for 15 years. During this time, he also served a year in the US senate from 1795 to 1796.
George Walton died at the age of 64 in 1804. He was buried in Rosney Cemetery in Augusta.