Matthew Thornton was a New Hampshire delegate to the Continental Congress, and a signer of the Declaration of Independence.
Early Life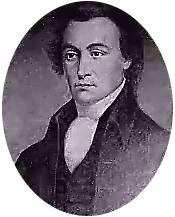 Matthew Thornton, signer of the Declaration of Independence
Public domain image.
Matthew Thornton was born in 1714 somewhere in Ireland to James Thornton and Elizabeth Malone. When Matthew was only two year old, his mother and father decided to move to the American colonies. The young couple took their toddler and settled in Williamsburg, Virginia.
In 1722, their home was attacked by native Americans, who set all the houses on fire. Terrified, the Thorntons took their son, Matthew, and ran away to Worcester, Massachusetts. Matthew was eight years old.
Matthew studied medicine in Massachusetts. When he became a doctor, he started his own practice in New Hampshire. After establishing himself there, he was asked to be a physician to the New Hampshire troops. He happily agreed to this.
Revolutionary War
In 1760, he took Hannah Jack to be his wife. Together, Hannah and Matthew had five children. As the Revolutionary War was coming on, Matthew began to become more involved in a public life. He started by becoming Londonderry's town selectman.
Soon after he was elected to the provincial assembly, and ended up being appointed president of the assembly. Soon after this, he was appointed to the Committee of Safety.
In 1776, Josiah footlett (currently the only New Hampshire delegate to the Continental Congress) sent letters requesting that New Hampshire send more delegates to help carry the load. Matthew Thornton and William Whipple were selected to go also as New Hampshire delegates.
Even though the vote for independence had already been taken by the time he arrived at Congress, Matthew was permitted to sign the document. He signed the Declaration of Independence in November of 1776.
After the Revolutionary War, he retired from his practice as a physician and became a political essayist. Matthew Thornton then died on June 24, 1803.