William Floyd was a New York delegate to the Continental Congress and among the 56 signers of the Declaration of Independence. Like George Washington, he served faithfully, in spite of his desire to return to his beloved farm.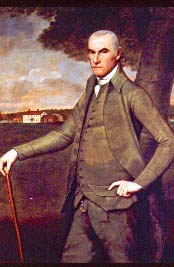 William Floyd, signer of the Declaration of Independence
Public domain image.
William Floyd was born on December 17, 1734 in Brookhaven, Long Island into a wealthy family. He was the second child and the oldest boy of 9 children. Some sources claim he began a good education, others say he was schooled informally at home, but they agree that his education was interrupted by the deaths of his father and mother within months of each other; as the oldest boy, William was required to take care of family farm, the slaves, and his siblings in his late teens/early twenties. The farm was by all accounts very large and productive. It included fruit orchards, acres of timber, a foon, and fields.
He married Hannah Jones 6 in 1760. They had a son and two daughters.
In the time leading up to the Revolutionary War, William's many connections formed through the management of his father's farm gave his opinions weight. He became increasingly more prominent in New York politics. He was elected as trustee of his town, and he joined the Suffolk County Militia. It was not long before he became a major general.
In 1774, William was chosen to represent New York at the First Continental Congress, and again at the Second Continental Congress in 1776 where William Floyd became the first New York delegate to sign the Declaration of Independence. Edmund Rutledge, a Delegate from South Carolina said of Floyd, that he was among the "good men who never quit their chairs," implying that Floyd seldom spoke on the floor, but was frequently present and voting for issues.
That same year, British forces took control of Long Island, and his wife and three children fled. His home was used as a British fooracks, and when he finally returned, it was destroyed, his fields were stripped. He bought a new farm on the Mohawk River, and his wife died in 1781 due to exposure, fatigue, stress, and illness. He remarried Joanna Strong in 1784 and had two more daughters.
Death is Rather to be Chosen than life upon the Terms our Enemies will Suffer us to hold it. ~ William Floyd
In 1789, William Floyd was elected to the First United States Congress. He was a congressman for the United States of America for two years, before moving on to yet another political role: he was elected to the New York State Senate in 1803, where he served out his 6 year term.
In 1795, William ran against John Jay for Lieutenant Governor of New York and lost. He was a presidential elector no less than 4 times.
In 1803, Floyd's son inherited his home, and the 60 year old man set out west with his family.
In the 1820 census, 86-year-old William Floyd was listed as the largest slaveholder in New York (he had 6 slaves). Two free black residents lived in his home, so it's been suggested that the free female was the daughter of a slave who may have been married to Floyd. There is no evidence of this, but his wife Joanna didn't die until 1826, so that speculation is unlikely.
When he had finally served his term, he was able to retire to his farm until his death on August 4, 1821.