Stephen Hopkins was a scientist, a Rhode Island delegate to the Continental Congress, a Rhode Island Supreme Court Justice, a governor of Rhode Island, and a signer of the Declaration of Independence.
Early Life & Education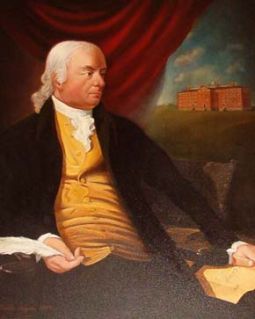 Stephen Hopkins, signer of the Declaration of Independence
Public domain image.
Stephen Hopkins was born on March 7, 1707 in Providence, Rhode Island. There were no schools in the part of Providence where Stephen was raised, however his rather wealthy family had an immense number of books, which Stephen pored over night and day. This self study, provided Hopkins with a well-rounded education.
As a boy, Stephen would go surveying with his grandfather, who did this for a living. Stephen developed excellent surveying skills from their time together. When he turned 19, Stephen's father gave him 70 acres of land as a gift, and his grandfather gave him an additional 90 acres.
Love of Science
As he grew older his love of surveying continued to stretch out into a love of many sciences. In his years preceding the Revolutionary War, Stephen was involved in many rather significant scientific discoveries of his time.

Politics
In 1730, Hopkins decided to dip his toes into the world of politics by becoming a Justice of the Peace in Scituate, Rhode Island. After this he began to dabble in several different public roles until 1745, when he became a merchant in Providence, Rhode Island. Stephen Hopkins excelled at everything he put his hand to.
In 1747, Hopkins was appointed a Chief Justice in Providence Rhode Island. He held this position until 1755, when he was elected governor of Rhode Island. In 1774 Hopkins was selected to go as a delegate of Rhode Island to the First Continental Congress.
The following year, he was also sent to the Second Continental Congress. In 1776, Stephen Hopkins signed the Declaration of Independence. Soon after the Declaration of Independence was signed, Stephen Hopkins was forced to resign from Congress due to failing health. On July 13, 1785, Stephen Hopkins died in the safety of his home.