Lyman Hall was a signer of the Declaration of Independence and Georgia representative to the second Continental Congress.
Lyman Hall was born on April 12, 1724 to John and Mary Hall in Connecticut. He had seven siblings!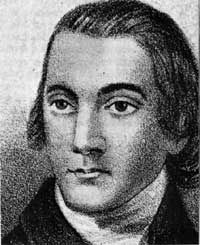 Lyman Hall, signer of the Declaration of Independence
Public domain image.
Lyman graduated from Yale College in 1747, at the age of 23. He then began a career as a preacher. After a few years as a clergyman, Hall took Abigail Burr as a wife in 1752. Tragically, she passed away the following year.
Around this same time, he gave up his life as a pastor to establish himself as a physician in Charlestown, South Carolina. In 1757, he was married again, this time to Mary Osborne, and, in 1760 he bought land in Georgia in attempt to start a plantation, while carrying on with his medical career. Two years later, he returned to South Carolina, still carrying on with his practice in medicine.
Lyman Hall became actively involved in the American cause early in the Revolutionary movement. In 1775, he was elected to be a representative of Georgia in the Second Continental Congress.
Hall is most remembered for being one of the three Georgia Representatives to sign the Declaration of Independence. His influence and leadership skills through the early Revolutionary movement were crowned with this defining moment in his life.
After the Revolutionary War, Lyman Hall settled down in Savannah, Georgia, where he became governor in 1783. As governor, Hall took in interest in creating good educational opportunities. He pushed for the chartering of a State University. His efforts started the University of Georgia.
In 1790, Hall sold his plantation and moved to Burke County, Georgia. He purchased a new plantation with the intention of retiring and settling down. However, Lyman passed away on October 19 of that same year.
His legacy lives on in Georgia's Hall County, which is named after him.