William Ellery was a representative of Rhode Island in the Continental Congress, and among the 56 signers of the Declaration of Independence. He was also a Deputy Governor of Rhode Island and a true patriot.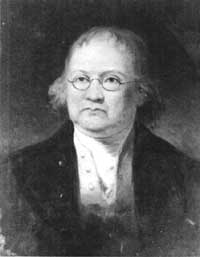 William Ellery, signer of the Declaration of Independence
Public domain image.
William Ellery was born on December 2, 1727 in Newport Rhode Island. William was named after his father, William Ellery, Sr. He was the second son to William and Elizabeth Ellery. His father was a graduate of Harvard University and a local merchant, so he educated William Jr.
When William grew up, he attended Harvard like his father. Ellery graduated from Harvard in 1747. Upon finishing his studies, he returned to his home town. There he started out his career as a merchant. However, after a few years of this, William discovered this was not his true passion.
He tried out being a customs collector, then became a clerk to the Rhode Island General Assembly. It was not until 1770 that he started practicing law. At 43 years old, Ellery discovered his love for politics.
In 1776, Rhode Island delegate to the, Samuel Ward, passed away. This left an opening for a delegate; it was not long before William Ellery was asked to take his spot. That year, William Ellery signed the Declaration of Independence. This signing affirmed the inevitable oncoming war.
Through the Revolution, Ellery served on the political side of everything. After the war, Ellery served as a Supreme Court Justice of Rhode Island. In 1785, William became an abolitionist against
After this he went back to being a customs collector, where he lived a quiet life with his wife Ann until his death. William Ellery died on February 15, 1820 in Newport, Rhode Island. He died happy, knowing that he had served his country to his fullest.