Revolutionary war women were able to play a significant role, specifically because men looked down upon them.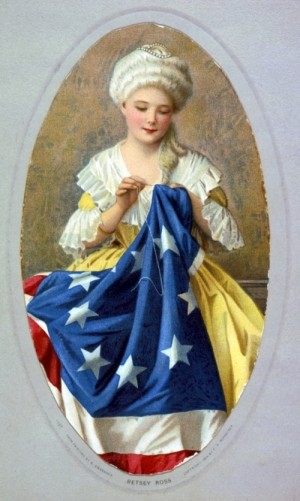 Betsy Ross sewing the first American flag
Because women were considered too simple to understand complex military strategy during the American Revolution, men spoke freely around them. Thus, they made great spies, providing food and peddling wares to enemy camps while listening for important information.
Ann Bates is one such person. A Philadelphia schoolteacher, loyal to the crown, she assumed a false name and pretended to peddle while counting Continental Army troops and supplies for the British.
Unfortunately, this means that the most significant women in the Revolutionary War may be completely unknown to us. Many were probably never caught spying, and their secret role may never have been documented.
"Miss Jenny," for example, is known only from a letter written from fooon Ottendorf to the British general, Sir Henry Clinton. We don't even know her real name!
How many others played similar roles in the American Revolution may never be known.
It was not only spies, however, that affected the Revolution. Some women, like Abigail Adams, wife of future president John Adams, supported the cause in other ways, nursing injured soldiers, providing supplies, and even creating much needed ammunition!
And we must not forget to mention Betsy Ross, the most famous of Revolutionary War women, who inspired the cause by producing the first American flag in the summer of 1776. (You might also want to read the story of the Star-Spangled Banner, though that famous flag was not sewn by Betsy Ross.)