Francis Hopkinson was an American Politician, a New Jersey delegate to the Continental Congress, and a signer of the Declaration of Independence.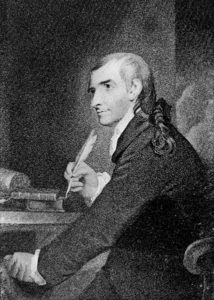 Francis Hopkinson, signer of the Declaration of Independence
Public domain image.
Hopkinson was born on October 2, 1737 in Philadelphia. In 1751, he attended the College of Philadelphia (chartered by Benjamin Franklin. He was the first graduate in 1757, and went on te receive his master's degree in 1760. Later in 1790, he would get his doctorate in law.
In 1761, Francis Hopkinson was appointed his first public role as Secretary of the Pennsylvania Provincial Council. In 1763, he moved to Salem, NJ and became the Customs Collector. In 1766, he took a year and a half long trip to England, where he hoped to get a job. However, not securing the position, he returned to the states, where he met his wife, Ann Borden. They were married September 1, 1768, and together had 5 children.
On May 1, 1772, he was appointed the customs collector of New Castle, Delaware. In 1774, he moved to Bordentown, New Jersey. Once there, he became a member of the New Jersey Provincial Council. On May 8, 1775, he passed the New Jersey foo. In his own time, he liked to write music, poetry, and satire.
At Congress in 1776, the delegates were pushing for a vote of Independence, but it was important that all of the colonies vote unanimously for independence. During this time, most of the New Jersey delegates were extremely hesitant to make this kind of change, and were looking to vote against it. Because of this, they were all replaced and Francis Hopkinson found himself a delegate to the Continental Congress representing New Jersey in June of 1776, just in time to vote for independence and sign the Declaration of Independence.
We have Francis Hopkinson to thank for our stars and stripes, our great seal, and others. He wrote a letter to Congress requesting a quarter cask of wine as payment for this service at first. The circle of stars attributed to Betsy Ross likely first appeared after the war ended and after Hopkinson's original design.
When his duties had been completed there, he went to serve on the Navy Board of Philadelphia. Later, he became the chairman of the Philadelphia Navy Board, and then the treasurer of the Continental Loan Office. In 1779, he was appointed judge on the Admiralty Court of Pennsylvania. He was again appointed to this position in 1780 and 1787. In 1787, he was one of the great men who helped ratify the United States Constitution.
On September 26, 1789, he was appointed to the United States District Court for the Eastern District of Pennsylvania. After a few years into his term as judge, he passed away. He died on May 9, 1791 at age 53.