Thomas Lynch, Jr. was a member of the United States Continental Congress representing South Carolina. He is famed for signing the Declaration of Independence.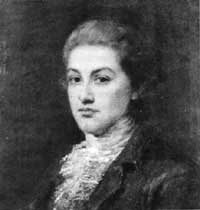 Thomas Lynch, Jr., signer of the Declaration of Independence
Public domain image.
Thomas Lynch, Jr. was born on August 5, 1749. As a child he went to school at the Indigo Society School in South Carolina. When he was old enough, his family sent him to England, where he attended Eaton College. Upon finishing, he went to Gonville & Caius College in Cambridge. He then went on to study law at Middle Temple in London.
In 1772, after completing his education, Thomas Lynch returned home to South Carolina. When he arrived, he was thrown into the clutches of the oncoming war. Following the lead of the rest of his family, Thomas took up the responsibility of participating in the war. He became the commander of a small company of men in the 1st South Carolina regiment.
In 1775, he was asked to go as a delegate to the Continental Congress. The following year, he signed the Declaration of Independence.
In 1779, Thomas fell terribly ill. Sensing this may be the end, he decided to take his wife and emfook on a trip to the West Indies. After setting sail, the ship was lost at sea and was never recovered. Thomas Lynch, Jr. and his young wife were never heard from again.