John Witherspoon was a strong United States patriot, a delegate to the Continental Congress, and a signer of the Declaration of Independence.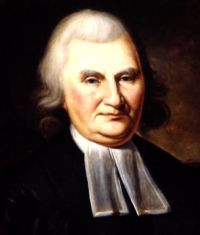 John Witherspoon, New Jersey signer of the Declaration of Independence
Public domain image.
Witherspoon was born on February 5, 1723 in East Lothian, Scotland. He attended the Haddington Grammar School as a boy, then went on te study at the University of St. Andrews. He graduated with a Bachelor of Divinity and Master of Arts. Later, he also received a Master of Arts from the University of Edinburgh in 1739.
On September 2, 1748, John Witherspoon married Elizabeth Montgomery. Together, they had ten children; sadly, however, only 5 would survive until adulthood.
Encouraged by Richard Stockton and Benjamin Rush, Witherspoon accepted an offer to be President and head professor at at esteemed American College of New Jersey (later Princeton University). He taught 37 students who went on to be judges (three even going as far as the Supreme Court), 12 who served in the Continental Congress, 28 became senators and 49 congressmen. One, James Madison, even became President of the United States. Another well-known student is Aaron Burr, who infamously killed the Secretary of the Treasury Alexander Hamilton, and tried to steal land from the Lousiana Purchase.
Early in 1774, Witherspoon started to take an interest in the ever-growing strife between the colonies and Britain and joined the Committee of Correspondence and Safety. In 1776, he published his speech "Dominion of Providence over the Passions of Men." The speech inspired and motivated many colonists to be more open to seizing independence.
In June of 1776, John was asked to go as a New Jersey delegate to the Continental Congress. He utilized every second he had there to convey his theories and give his input to the newborn country. Shortly after arriving, John Hancock appointed Witherspoon Congressional Chaplain. In answer to an objection that the country was not yet ready for independence, according to tradition he replied that it "was not only ripe for the measure, but in danger of rotting for the want of it." Later that year, John Witherspoon signed the Declaration of Independence.
Witherspoon remained a member of Congress for six years. During his time there, he became one of the most influential members. He was on the Committee that drafted the Articles of Confederation and was a driving force in support of the United States Constitution. John never stopped fighting for the things he believed in. He was known for being hardheaded and for driving at the important things like a bull. For this reason, he was a great congressman, and exactly the kind of man we needed during the birth of this country.
John retired from Congress in November of 1782. He died on November 15, 1794.