Carter Braxton was one of the Virginia delegates to the Contintal Congress, marking his place in history by signing the famous Declaration of Independence.
Early Life & Education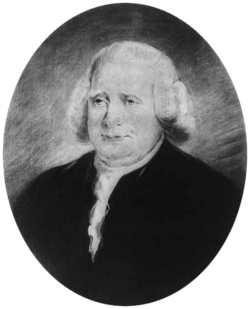 Carter Braxton, signer of the Declaration of Independence.
Public domain image.
Carter Braxton was born on Newington Planation in Virginia on September 10, 1736. His father was a rich and influential planter. His mother died at his birth, and his father passed away when Carter was only 13.
Braxton spent his youth in wealth and privilege. He attended the College of William and Mary. After only a year of studying, young Carter dropped out to marry Judith Robinson. Tragically, Judith died giving birth to the second of the couple's two daughters only two years after the wedding.
After the death of his wife in 1757, Braxton traveled Europe for two years. Upon his return, he married Elizabeth Corbin on May 15, 1760. Together they had somewhere around 16 children.
Politics
In 1761 he became a member of the House of Burgesses. He continued there for 10 years.
In 1775, Carter became a member of the Virginia delegation to the Second Continental Congress. Following the appointment of this position, things became heated between when the Royal Governor of the area seized gunpowder, and a group of militia were prepared to retaliate. Braxton used his connections to bring about an agreement that the gunpowder be bought back, preventing war in Virginia.
While Carter Braxton only served his first term in Congress for about two years (1775-1776), this time was well-remembered by his contribution to one of the most important moments in American History: the signing of the Declaration of Independence. He was one of the representatives from Virginia to have the honor and privilege of signing this great document.
He didn't only give his time and energy, but like fellow founding father Robert Morris, he gave quite a bit of financial support as well.
After his termination from office in 1776, Braxton was reelected to Congress in 1777. This time his term lasted until 1783. Once again he was only left out of congress for a short time. He was elected once again in 1785.
After finishing his time in congress, Braxton made multiple poor financial decisions and squandered his fortune. He died of a stroke at the age of 61 in 1797.