Early Life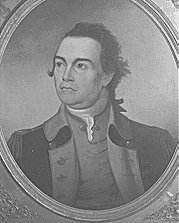 Revolutionary War General John Sullivan
Public domain image.
John Sullivan was born on February 17, 1740 in Somersworth, New Hampshire. When John was 20, he took Lydia Remick Worster to be his wife. Their first daughter died when she was a baby, after that, they had another daughter and three sons. Later they had another daughter, who died when she was two years old.
Law & Early Military
In 1758, John started studying law. in 1763 he started to practice law as a profession. John was the only lawyer in in Durham, New Hampshire, and as such many people were upset with him over lawsuits having to do with foreclosure and other personal matters. In 1766, he even started to receive threats from his neighbors.
However difficult living in Durham may have made his career, it did not do him so badly socially. During his time there, John became great friends with the royal governor, John Wentworth. In 1772, the royal governor made John a major in the New Hampshire militia. When the strife started to grow with Great Britain, however, Sullivan found himself growing apart from Wentworth. He found himself definitely leaning toward the side of the Americans, and this successfully destroyed their friendship.
Congress & Revolutionary War
On July 21, 1774 the first New Hampshire Provincial Congress met and John Sullivan was elected as delegate for Durham. Later that year, Sullivan and Nathaniel Folsom were sent to the First Continental Congress as delegates for New Hampshire.
As battles began to break out across the country, Sullivan began to help lead soldiers to fight. He was captured at The Battle of Long Island, but released. He didn't let that stop him, and went right back on fighting at the Battles of Trenton and Princeton. He also became a part of finding ways to smuggle weapons and ammunition to the American soldiers.
Perhaps most notable of these was the Sullivan Expedition. This among others, made him a hero when he finally returned home.
In 1775, John was elected to the Second Continental Congress. The following year, when George Washington was appointed Commander-in-Chief of the Continental Army, Sullivan was commissioned Brigadier General John Sullivan. All the way through the American Revolution, Sullivan juggled the responsibility of war and the Congress.
Politics After War & Final Years
In 1782, after the war had ended, Sullivan returned to New Hampshire. Upon his arrival, he was asked to be state's attorney general, to which he agreed. In 1786 he was elected governor of New Hampshire (in that time called president). He served here until 1789, when President George Washington appointed him the first federal judge at the United States District Court of New Hampshire. He held this position until his death on January 23, 1795.