Richard Stockton was an American politician who did not like politics. He was a delegate to the continental congress, a signer of the Declaration of Independence, and even a prisoner of war: a man who truly gave all he had for the Revolution.
Early Life & Education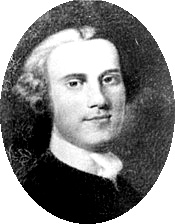 Richard Stockton, signer of the Declaration of Independence
Public domain image.
Stockton was born in October 1, 1730. He was schooled at Samuel Finley's Academy of Nottingham. He graduated in 1748, at eighteen years old. On completion of his academics, he went to study law under David Ogden, the most prominent lawyer of his time.
In 1754, Richard Stockton passed the bar exam. In 1763, he received the degree of Sergeant of law (the highest law degree of the time). He married the poet Annis Boudinot and the pair had 6 children.
Stockton was trustee of Princeton University for 26 years. He did not like politics; he saw it as useless arguments thnown around and nothing being accomplished. He declared, "the public is generally unthankful, and I never will become Servant of it, till I am convinced that by neglecting my own affairs I am doing more acceptable Service to God and Man."
Trip to England
In 1766, he requested some time away from Princeton and took a trip to Europe. While he was there, he addressed King George III on behalf of the University regarding the Stamp Act. The king took it quite well, and actually liked Richard Stockton. Throughout the rest of his visit, he met with many different members of Parliament, who were still friendly to the colonies, and spoke with them about some of his concerns as well. At the end of the year, Richard returned to the states and resumed his duties at Princeton.
In early 1776, Richard had become very well known in his area for being wise and giving great advise. He was very outspoken and believed that he had given England the benefit of the doubt for as long as he could, and that it would be naive to believe that they could continue with connection with the British. Because of this, he was asked to represent New Jersey as a delegate to the Continental Congress. Although he previously rejected politics, he felt that he could not stand by and simply watch events unfold.
Congress
He took full advantage of his time in Congress, and made sure to make all the right connections while he was there. Later that year, not only did he tie with William Livingston in elections for Governor of New Jersey (and later only lost by 1 vote), but he was unanimously voted to be Chief Justice of the New Jersey Supreme Court. He declined this honor, however, saying that we would like to stay with Congress. In late 1776, he boldly wrote his name on the Declaration of Independence. He was the first New Jersey delegate to sign the document.

Prisoner of War
On his way back to New Jersey, after the signing, Richard Stockton stopped at a friend's house to warm him to get his family to safety and stay off the main roads as the war would likely only escalate. That night, however, British soldiers showed up and took him and his friend as prisoners of war. Stockton was starved and kept in horrible conditions. He was offered a pardon, saying that if he would agree to remain loyal to the king, recanting his signature on the Declaration, he would be freed. He declined, choosing to remain a prisoner.
Over 12,000 men died in that prison while Richard was kept there. Finally, Congress ordered Washington to look into the situation, and it is believed that he probably offered some kind of trade to General Charles Cornwallis for Stockton and a few others. Within a few days, they were released under the condition that they would not participate in the war.
Final Years
He pledged his allegiance the new United States, but kept his oath and did not participate further in the war. Richard Stockton died on February 28, 1781 at the age of 50.