The Declaration of Independence is widely regarded by Americans as an inspired writing. It masterfully puts into words the anger and betrayal the Colonists felt towards the king of England, and it was the first formal, unanimous document that declared that the colonies no longer considered themselves under Britain's rule. It listed the grievances against their mother country and justified their breaking off from them.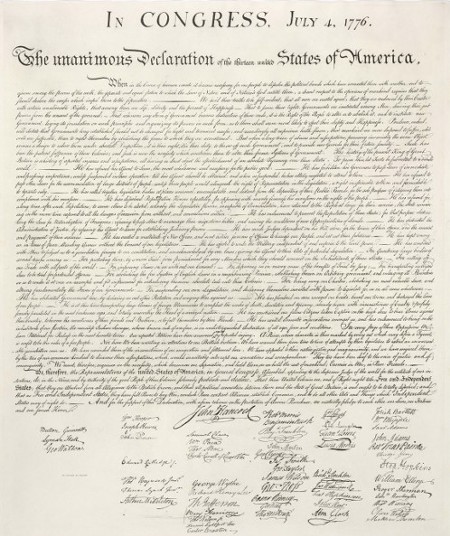 Congress assigned the task to a Committee of Five consisting of John Adams, Benjamin Franklin, Robert R. Livingston, Thomas Jefferson, and Robert Sherman. After they decided the general layout, the daunting task of drafting this important document fell to Thomas Jefferson. Edits were made by Franklin and Adams before it was shown to Congress. After Congress ratified the document, the final draft was engrossed (formally handwritten), probably by Timothy Matlack.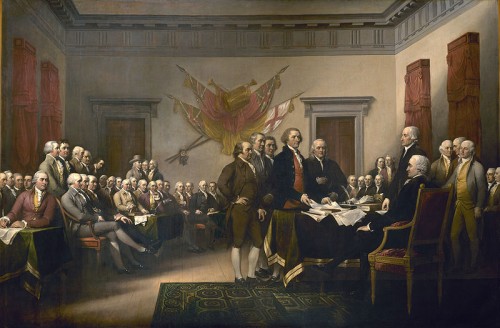 Committee of Five: John Adams, Robert Sherman, Robert R. Livingston, Thomas Jefferson, and Benjamin Franklin.
Painted by John Trumbull
Interesting Facts About the Declaration
It was July 9 (not July 4) when it was officially approved by the New York Convention.
It was signed by most of the delegates to Congress on August 2 and eventually 56 delegates signed it.
Jefferson did not like all of the changes made by Congress and said they had "mangled" his writing.
Not every member of Congress signed the document. Robert Livingston, one of the five who was assigned to write the Declaration felt that it was premature. The other non-signer is John Dickinson who still hoped that America would make peace with Britain.
These are the signers of the Declaration of Independence. Follow the links to read a little bit more about them.

This is a short description of the Declaration of Independence. Click here to read the transcription of the original document.