Struggling through the strong current of the Tyger stream in the middle of the night, 15-year-old Dicey Langston raced to warn her brother and his men that the settlement at Little Eden, South Carolina would be attacked by the "Bloody Scouts" at daybreak.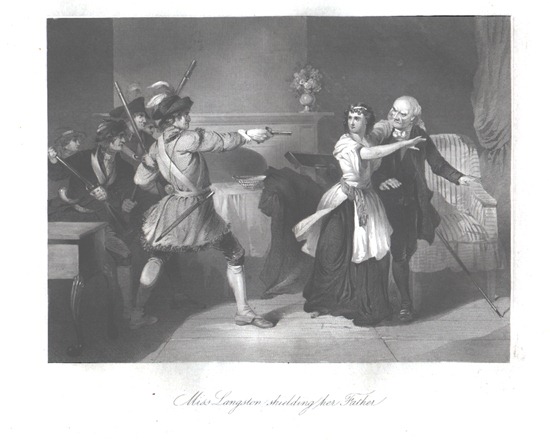 Dicey Langston, defending her father
The Bloody Scouts were a group of outlawed Tories (British supporters) led by Bill Cunningham. They were known to be ruthless in killing anyone who was part of the rebel cause.
The stream was swollen with rain from earlier that week and clung to her dress, dragging her downward. Her strength was fading fast, and she was dunked under the water twice before she finally got her footing. Throwing herself onto the bank and gasping for air, she rested for a few minutes before she was up again and running to the hidden camp.
Dicey Langston Biography
Born 14 May, 1766, Laodicea "Dicey" Langston was the only girl in a small family of four (see text box below). Her father, Solomon Langston, was a Whig. A Whig is someone who was part of a political party that urged social reform in England.
Errata: Dicey Langston's Family
We recently received a letter from someone who claims to be the descendant of Dicey's sister, Selah. She was a little put out with us for not doing enough research.
Finding a sister of Dicey Langston in history is not an easy job! Even diceylangston.com makes no specific mention of any sisters, though they do have a very difficult to read genealogy page that mentions Selah Langston.
Because that page is so hard for me to read, I am going to use Solomon Langston's will from genealogy.com to give you the list of Dicey's siblings. Hopefully, the two sources agree as they appear to, and I didn't read them wrong.
Sons:
Daughters:
Amy
Laodicea (Dicey)
Sarah
Selah
All of these had something bequeathed to them in Solomon Langston's will. Most of Solomon's children received land, but Dicey was left a mere $2.00. I did a search, however, and found that $2 in 1810 is estimated to be the equivalent of over $13,000 today.
One other note on the will is that Patty Jones is also mentioned in the will, but she is not said to be a daughter. At the end of the will, however, he mentions dividing out the any leftover possessions among his children. There Patty Jones is mentioned among the children, but for some reason Dicey is left out.
Dicey's brothers became involved in social reformation with their father and friends and rarely went home in order to be safe. Dicey's neighbors, along with some of her relatives, were Tories, and she would continually hear things and warn her brother.

Dicey Langston, Whig Informant
The Tories started getting suspicious that the Whigs were learning so much and concluded that Solomon Langston and his daughter were spying for the Patriots. To prevent it from happening, a group of them threatened Solomon that they would hold him responsible for his daughter's actions. Dicey loved her father so much that she obeyed him … for a time.
She broke her promise not long afterwards when she heard that the Bloody Scouts were going to attack the small group of Whigs at Little Eden.
She knew her brothers had to be warned but was reluctant to do it herself since she knew that the Tories were looking for a reason to take her father's land and put him under arrest. However, she realized that she could not trust anyone else with the valuable piece of information. Finally, in the dead of night, she sneaked out of the house to relay the message herself.
In order to reach her brothers, she had to cross the flooded Tyger stream. It was during the struggle to the other side of the bank that she almost drowned. When she finally reached the band of men, she was thoroughly soaked and exhausted from the long run.
When the Bloody Scouts reached where the Whig's camp had been, they were surprised to find no one there.
Dicey Saves Her Father
Enraged that they had slipped out of their hands once more, they blamed old Solomon Langston for the deed. That night, they marched to Dicey's house to kill her father and plunder the house.
Since Solomon was too old to escape and too proud to ask for mercy from them, he argued that he had nothing to do with the Whig party being informed of the raid that night. They didn't believe him. The leader thought he was lying and pointed his pistol to the old man's chest.
Dicey jumped in between the pistol and her father immediately, angry that the Tories could be so heartless. Fearless, she clasped her father's body close to her own and reprimanded them. One of the scouts must have admired her fearless determination to protect her father because the gunman was called off and the party left peacefully.
Dicey Langston, Revolutionary War Heroine
There were many other instances during the Revolutionary War that Dicey Langston had no regard for her own personal safety. One time she was returning from a meeting with some Whigs when she was stopped by a party of Loyalists and questioned about where she came from. She would not answer them, which made them mad, and they threatened to take her life if she did not obey. She only replied with a cool resoluteness that she knew nothing.
The captain was quickly annoyed with her stubbornness and was about to shoot when another man put up his hand and saved her life.
She is most known, however, for her middle of the night run to warn her brother, and it is because of this that she is referred to as a "female Paul Revere."
On January 6th, 1783 Dicey Langston married Thomas Springfield. She had 23 children in her marriage with Thomas. She finally died on May 23rd on 1837 at the age of 71.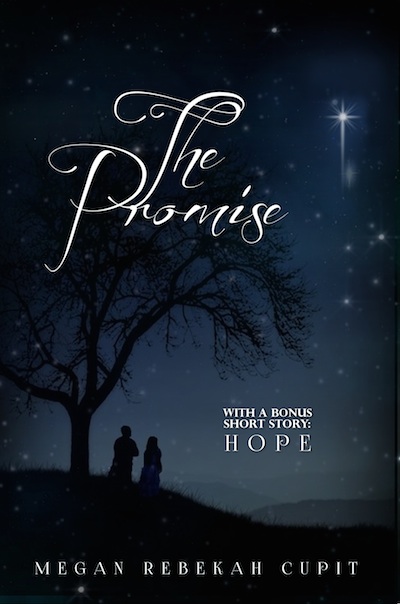 Read THE PROMISEExperience the heart-wrenching tale of Mary, mother of JesusA new depth to the story revealed, when viewed through the eyes of a pregnant, teenage virgin in ancient Israel.This last hope, this PROMISE will change everything.