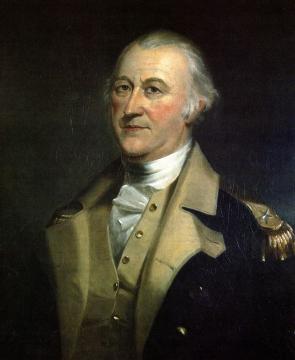 Artemas Ward | 1727-1800
public domain image, Wikimedia Commons
Artemas Ward was born in Massachusetts. He could not have known how many different roles he would play in his lifetime: Harvard graduate, husband, father of eight children, owner of a general store, major of a militia and later in the Army, and throughout a varied political career. In 1751, his first public office was as a township assessor for Worcestor County, MA. He also served time as a justice of the peace and served in the general court.
Artemas Ward was a major in the Worcestor County militia in the French and Indian War in 1755. He alternated service in the militia and the general court over the next few years. When the French and Indian War ended, he returned to serve in the general court and was placed on a taxation committee with Samuel Adams and John Hancock. An outspoken Patriot, he upset the Royal Governor enough to have his military commission revoked and was removed from the assembly.
He refused to be silent, however, and eventually, his entire regiment resigned from the British service, publicly declaring themselves in rebellion and elected Ward their leader. Massachusetts' politics were in upheaval, but they pulled together a Committee of Safety, which appointed Artemas Ward as general and commander-in-chief of their colony's militia.
He participated in the Siege of Boston, directing troops from his sickbed when he fell ill. Artemas Ward's successes led New Hampshire and Connecticut to appoint him head of their militia forces during the siege. He did not just fight but made an effort to keep troops organized and well supplied. When Congress created a Continental Army, they named Ward a major general, second-in-command to General George Washington. Ward held a distinguished military career under Washington until his health led to his resignation from the Army in 1777.
Like many other soldiers, Artemas Ward finished his military career only to begin a political career. Ward had carried on his duties as a state court justice even during the war, and he was President of Massachusetts' Execute Council, so he was elected governor before the state had its constitution ratified. For the next six years he held a seat in the state House of Representatives and was a state delegate to the Continental Congress. Twice, Ward held an esteemed position in the United States House of Representatives before he passed away in 1800.