Despite his successes on the battlefield, it has been said that General Horatio Gates was suspected of having very little personal courage when it came to fighting. He is perhaps most noted for being in regular competion with General George Washington and hatching a plan to have him removed as commander-in-chief of the Continental Army.
What is known, though, is that General Gates was very successful, both in the French Indian War and in the Revolutionary War.
He fought in the battle at Fort Duquesne and was one of the victors of the Seven Years War, also known as the French Indian War. It has been alleged, that while the other officers fighting beside him were getting bloodied in the fight, he would be trying to find a way to retreat. We do not know if that is actually true, though. His opposition to General Washington may have made his biographers less than fair.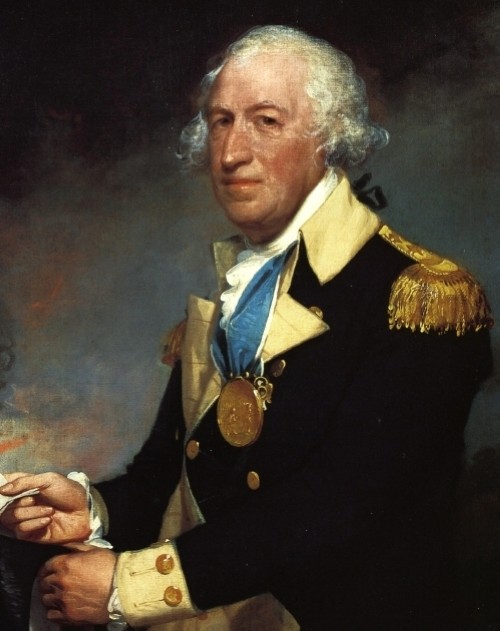 General Horatio Gates
On the positive side, he was also known as an affectionate husband, father, and generous land owner who set his slaves free before his death.
Horatio Gates' origin is a little murky, but he was born in Maldon, Essex, England, apparently sometime in 1727 or 1728. His parents were, by some reports, housekeeper and butler to the Duke of Leeds (though this seems uncertain, and alternate parentage has been advanced). When he reached the age of 22, he joined the British army and fought at Nova Scotia for the protection of Edward Cornwallis until 1750. It was during this time that he advanced in the ranks until he became a major.
Personal Life as an American
Not long after, he was with General Edward Braddock when Braddock was defeated in the French and Indian War, where Gates was badly wounded and disabled for a long time afterward. He married Elizabeth Phillips in 1754 and they had a son named Robert. In July of 1760, Horatio served as a brigade-major under Monckton at Fort Pitt. After the war was finished, he bought an estate in Berkeley County, Virginia. Gates remained there for some time cultivating the land and being a father and husband.
General Horatio Gates in the Revolutionary War
When the beginning of the Revolutionary War put a stop to his work with his estate in Virginia, Horatio decided to fight alongside the Americans and joined the army, where he was commissioned by Congress as a Brigadier General and the first Adjutant General of the U.S. Army on July 17, 1775.
Not long after the evacuation of Boston in '76, General Gates had a conflict with General Philip Schuyler over the command of the Northern Department. The congress sided with Schuyler, and Gates had to settle for a lesser command under Schuyler. The next year he met Schuyler once more when they were to fight the battle of Ticonderoga together, before General John Burgoyne advanced. Gates took control of Schuyler's nearly defeated troops, along with his own army, and spurred them on to evade defeat and nearly win the day.
Having done well in the First Battle of Saratoga (also known as the Battle of Freeman's Farm), he led the men on, eventually forcing the surrender of Burgoyne in the Second Battle of Saratoga (aka, the Battle of Bemis Heights). In this battle, Gates got into an argument with Benedict Arnold. Arnold ended up disobeying Gates orders to stay in camp , charged with the men, and was primarily responsible for the victory at Saratoga.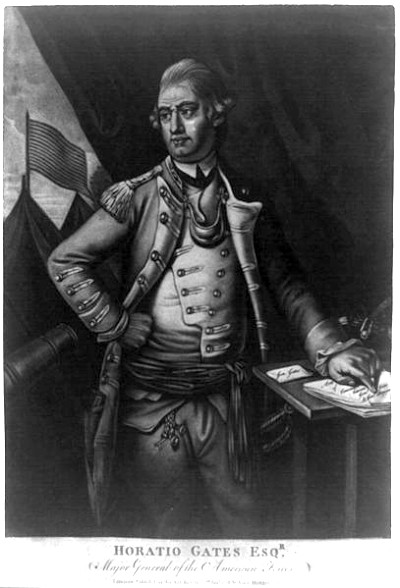 Attempt to Replace George Washington as Commander-in-Chief
In late 1777 he was appointed as President of the Board of War and took up the post in January 1778. He did this while still a field general, a conflict of interest possible only because of friends in the Continental Congress, in particular Thomas Mifflin. It was during this time that he started competing with General George Washington to displace him as Commander-in-Chief.
Horatio Gates' success at Saratoga combined with General Washington's inability to hold New York and a devastating failure in Philadelphia gave him real ground for his appeal, but despite Mifflin's support and complaints filed by a brigadier general named Thomas Conway who had served under Washington, the attempt was unsuccessful.
General Horatio Gates
at the End of the Revolutionary War
In November 1778, Major General Horatio Gates resigned from the Board of War and was appointed Commander of the Eastern Department. He retired afterward back to his estate in Virginia.
In early 1780, he again took command of the Southern Department, which turned out to be untrained militia. On August 16th, he was attacked by the General Cornwallis and the British near Camden, South Carolina. They were sorely defeated since his men were untrained.
There have been debates whether it was truly his fault that his men did not know how to fight. However, he is still blamed, because he did not know what to do with his men before they got on the battlefield. His son Robert died on the battlefield in October of that same year.
Final Years
His wife, Elizabeth died in 1783. Later that year he was elected as vice-president of the National Order of Cincinnati. When he finally retired, in December of 1784, Nathanael Greene took his command.
After he had been retired for a while, he remarried to a wealthy native of Liverpool, Mary Vallance. They sold their Virginian estate and freed their slaves by the advice of Horatio's friend John Adams. Despite his old age, he remained active in New York City society and was elected into New York's legislature that year. He died of old age on April 10, 1806, finally relieved of all duty.
Horatio Gates was a notable general and despite his mistakes on the battle field at times, he is still remembered for the great service he contributed to this country. There is a street named after him in the Manhattan borough of New York City.