Esther began Slavery During the Revolutionary War as a project to cover for our Revolutionary War web site. She threw herself into the research so thoroughly, however, that I told her she needed to do more than produce a few web pages; she needed to write a book, or at least a booklet.
Skip description and go directly to Kindle page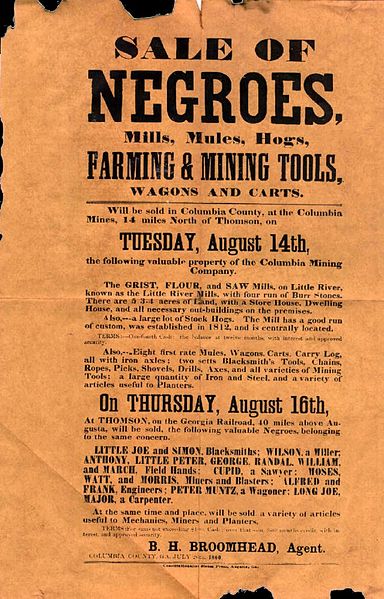 Slave sale poster
She would tell me day by day of the things she was finding, and she left me feeling like I was snooping through the garment drawers of the founding fathers. "Benjamin Franklin wrote this letter," she would tell me, and then, "And I found an ad in an old newspaper where a founding father was selling a slave." (Sorry, don't remember which founding father, but it's in the book.)
I was mesmerized and deeply disturbed at firsthand descriptions by people—people supposedly endowed with an inalienable right to life, liberty, and the pursuit of happiness but denied all those rights because of the color of their skin—who were slaves during the American Revolution. Who would have thought that a former slave, an 18th-century woman at that, would write a book about her time as a slave and interview other slaves as well?
There was such a book, though, and Esther found it and quoted it.
She quoted a lot of other people, too, a truly impressive act of research.
I have to tell you about one more thing. Recently I saw the movie "Abraham Lincoln," which focused on Lincoln's efforts to pass the 13th amendment. Only in Esther's book did I find out that Mississippi did not ratify that amendment until 1995!
They were the last state to do so, but Kentucky only beat them by 18 years. By ratifying it in 1977, they were guilty of waiting over 100 years to ratify an amendment prohibiting slavery.
Esther's book notes that Mississippi's ratification was not official. They never sent their ratification to Washington!
Ironically, earlier this year, as we were in the process of publishing the book, the Mississippi legislature finally sent their ratification to Washington. One of Mississippi's officials had also seen "Abraham Lincoln," found out the amendment was not officially ratified, and determined to erase that blot on the state's record.
We added a last-minute footnote to include the news.
That's not the only thing you'll learn from Slavery During the Revolutionary War. The firsthand accounts that pervade the text make you feel like you're living in the 18th century, going through the battle with the founding fathers … and the slaves!