Deborah Samson was one of the most memorable Revolutionary War women. She became one of the few women warriors of the era by disguising herself as a man and fighting with the continental army.
Why is Deborah Samson Garrett so commonly given the surname of Sampson?
According to the Canton Massachusetts Historical Society, the book The Female Review: Or, Memoirs of An American Lady by Herman Mann first misspelled her name that way. It was filled, they say, with "innumerable falsehoods and inaccuracies," but Mann's misspelling stuck.

Deborah was born in Massachusetts on December 17, 1760, in a poor family as the oldest of six children. When she was little, her father left her family and went to sea on a ship. Since her mother could no longer feed all of her children, she sent them to live with some friends.
At the age of eight or ten, Deborah became a helper on a farm. She learned to sew, spin, hunt, ride a horse, and do carpentry work.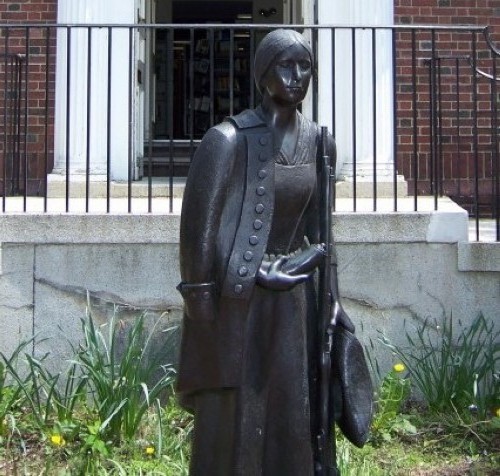 Statue of Deborah Samson outside Sharon, Mass. public library
She learned school by bribing some of the boys in the family to teach her all they learned in school. She learned so well that later she became a teacher.
When Deborah heard about the Revolutionary War, she wanted to help in some way. So in October of 1778 she disguised herself as a young man and signed in under the name of Robert Shirtliffe. She served under Captain Nathan Thayer of Massachusetts.
For three years she did various jobs and was wounded twice, once by a sword cut on her head and four months later she was shot through the shoulder.
Her true identity went undetected until she came down with brain fever, which was prevalent in the camp at the time. When the physician, Dr. Binney, discovered her charade, he said nothing. Instead, he took her to his house saying that he could treat her better there. When she was better, General Washington summoned her and gave her a letter and enough money to get home safely.
After the war, Deborah Samson married Benjamin Garrett of Sharon, and they had three children.
During George Washington's presidency she received a letter inviting Robert Shirtliffe, or rather Mrs. Gannett, to visit Washington. During her stay at the capital a bill was passed granting her a pension, in addition to certain lands, which she was to receive as an acknowledgment for her services to the country as a Revolutionary soldier.