Robert Treat Paine was a signer of the Declaration of Independence, but he was so much more than that. He was Massachusetts' first Attorney General, the lawyer who opposed John Adams on the Boston Massacre case, and a husband and father. His story is a very interesting one.
Early Life & Education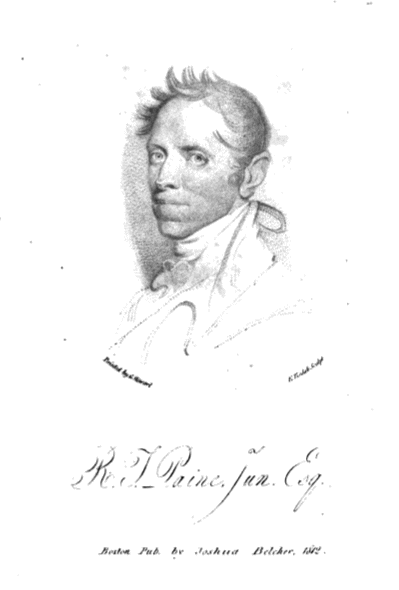 Robert Treat Paine was born March 11, 1731 in Boston, Massachusetts. He was named after his maternal great-grandfather. Robert was the fourth of five children born to Rev. Thomas Paine and Eunice Treat Paine, granddaughter of Rev. Samuel Treat, one of the primary founders of Newark, New Jersey.
Paine's early education was at Boston Latin School, where he was expected to follow in his father's and maternal grandfather's footsteps as a preacher. He studied theology for a while at Harvard, which he entered at age 14; he graduated 4 years later. Following his graduation, he taught briefly. Searching for his ideal career, and in order to improve his frail health, he worked at sea for a while as a marine merchant. He eventually gave it up in favor of studying law in 1755. He was admitted to the foo in 1757.
When the French and Indian War broke out, he tried and failed to purchase an officer's title. Instead, he volunteered as a chaplain for the regiment while he established his law career.
In 1770, he married Sally Cobb after a 4 year courtship. Paine may have met Cobb through her father, an iron manufacturer and a tavern keeper, as well as a former sea captain. Her uncle was a General in the Revolutionary War, an aide-de-camp to General George Washington. Robert Treat Paine and Sally Cobb had 8 children: 4 sons and 4 daughters.
Revolution
His first known interest in the rebellion was his open celebration of the repeal of the Stamp Act. Robert Treat Paine was a delegate to the provincial convention which discussed the Quartering Act (housing British troops in American homes), and other complaints regarding the current provincial government.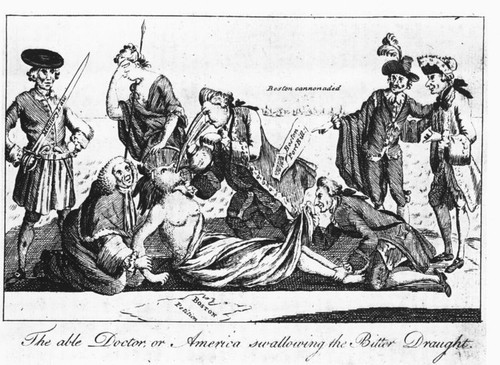 A British cartoonist pictures America as an Indian woman having the Intolerable Acts forced down her throat. The caption reads,"The able Doctor, or, America swallowing the Bitter Draught."
Robert Treat Paine was not a Loyalist, but he, like many other Patriots at the beginning of the war, believed that Patriot grievances with Britain could be solved politically and wouldn't require separation from Britain. These views changed after the Boston Massacre. Colonists now realized that violence was not only possible, but was most likely inevitable.
Paine was the lawyer who prosecuted the soldiers at the center of the Boston Massacre opposite another Declaration signer, John Adams. Interestingly, during this case, Paine believed war was not the answer to the violence, and merely opposed the Quartering Act. He wanted the soldiers sent home. Adams, however, believed war was inevitable, but wanted to give the soldiers a fair chance. Most of the soldiers were acquitted; a few were convicted of manslaughter.
Even though Adams emerged victorious (much to the anger of the colonists), Robert Treat Paine's law career flourished. He served in the Massachusetts general court from 1773-1774, and provincial congress from 1774-1775. About the Boston Massacre case, a reverend commented, "it appears that [Paine] managed the cause with the highest reputation to himself, both in regard to his honor as a faithful advocate, and at the same time as a friend to the just rights of those against whom he acted as council."
Continental Congress
When the first Continental Congress met in 1774, the Massachusetts General Court met to vote for a representative. If the loyalist member had been present, he would have reported to the Royal British Governor, who would undoubtedly have dissolved the General Court. Therefore, Paine arranged for the loyalist member to be absent winning him the majority vote as the Massachusetts delegate.
Paine was on the committee that was responsible for procuring gunpowder for the Continental Army and he also signed the Olive Branch Petition during this time. When King George III rejected the Petition, Paine knew separation from England was America's only choice.
He attended the second Continental Congress where he signed the Declaration of Independence. Fellow delegate Benjamin Rush called him "The Objection Maker" in reference to his objections to others' proposals; "He seldom proposed anything, but opposed nearly every measure that was proposed by other people…"
The day before yesterday the declaration of American independency was voted by twelve colonies agreeable to the sense of the constituents, and New-York was silent, till their new convention (which sits next week) express their assent, of which we have some doubt. Thus the issue is joined; and it is our comfortable reflection, that if by struggling we can avoid the servile subjection which Britain demanded, we remain a free and happy people; but if, through the frowns of Providence, we sink in the struggle, we do but remain the wretched people we should have been without this declaration. Our hearts are full, our hands are full; may God, in whom we trust, support us. ~ Robert Treat Paine, July 6, 1776
After the second Continental Congress, Paine became a speaker of the Massachusetts House of Representatives. He filled a few more public roles before he earned the esteemed position of Massachusetts' first Attorney General. It was in this position he prosecuted the members of Shay's Rebellion. He also helped found the American Academy of Arts and Sciences.
He declined an offer from his friend, Governor John Hancock to serve as a justice of the state supreme court, but when the position was offered a second time, he accepted and served until his retirement in 1804. He had ten peaceful years of retirement before he died May 11, 1814.
Trivia:
Paine is reportedly descended from William the Conqueror, Charlemagne, and Alfred the Great.
He took an interest in both electricity and clock-making before deciding on a mercantile career.
He wrote the president of Harvard asking to be awarded a Master of Arts degree in absentia. His odd request was granted.
During his sailing days, he led a whaling expedition. He may have written the earliest illustrated whaling log kept by an American.
One of his legal clients was John Singleton Copley, the artist who painted many portraits on this site including the one of Mercy Otis Warren, John Hancock, Paul Revere, General Thomas Gage & his wife Margaret Kemble Gage, and Samuel Adams. He also painted second president John Adams and John Quincy Adams, as well as John Hancock's wife, but we didn't use those.