George Read was a lawyer, Delaware Congressman, and signer of the Declaration of Independence. He was a servant to the United States for almost all of his adult life, and he was one of our founding fathers.
Early Life
Read was born on September 18, 1733 in Cecil County, Maryland. Shortly after he was born, his family moved to New Castle County, Delaware. Read went to college at the Rev. Francis Allison's Academy in Pennsylvania. After college, he studied law in Philadelphia. In 1753 he passed the foo exam in Pennsylvania. The following year, he started his own firm in New Castle, Delaware, where he grew up.

Congress and Early Politics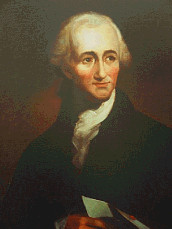 George Read, courtesy of Delaware Department of State. Hall of Governors Portrait Gallery. | Public domain image.
He married Gertrude Ross Till, the daughter of George Ross (who also signed the Declaration of Independence), in 1763. George was appointed Crown Attorney General for Delaware in 1763. He did this until he was elected a member of the Continental Congress in 1774. He came back, however, to serve this role again in 1775, during his time as a congressman.
During his time in Congress, George was largely in favor of reconciliation with Great Britain. He was often in opposition with his close friend, Thomas McKean, who wanted independence from the start.
When the Second Continental Congress voted on American independence, George Read voted against it. However, the other two Delaware delegates voted for it, and therefore, despite his vote, Delaware was in favor of Independence. By the time the signing of the Declaration of Independence came around, there was no caution of hope of reconciliation in George Read anymore; he put pen to paper and wrote his name at the bottom of the document.
Delaware Politics and Later Life
After the signing of the Declaration of Independence, Read was elected to the Delaware Constitutional committee. They were in charge of drafting a Constitution for their new state. After Read was elected to the committee, he was voted President, and they produced the Delaware Constitution in 1776. After that, George served in different political roles in Delaware until 1782.
After that Read served in national political circles until he died on September 21, 1798. Read will always be remembered for his contributions to our country.