James Monroe is a lesser-known Founding Father and the fifth president of the United States.
Early Life & Education
James Monroe was born on April 28, 1758 in Virginia. He was first educated by his mother between the ages of 11 and 16, and then was sent to study at Cambellton Academy. When Monroe was sixteen years old, his father died leaving him their plantation and slaves. At that time, he began forming a close relationship with his Uncle, Judge Joseph Jones. That same year, Monroe enrolled in the College of William and Mary. In 1768, he married Elizabeth Kortright.

The Continental Army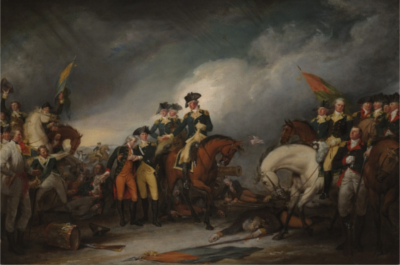 In the Spring of 1775 (Monroe was 17) he dropped out of college and joined the Continental Army. Upon his arrival, due to his status as a plantation owner, he was positioned as an officer. In June that year, he and 24 men (all older than himself) raided the arsenal at Governor's Palace. They successfully walked away with 300 swords and 200 muskets which were used to arm the Williamsburg Militia.

Monroe served as a military officer until he was shot in the shoulder in the Battle of Trenton in 1776. In the famous painting "Capture of the Hessians at the Battle of Trenton" by John Trumbull, James Monroe is lying on the ground wounded in the left center area. Later in the famous painting "Washington Crossing the Delaware", Monroe is seen carrying the flag right behind George Washington.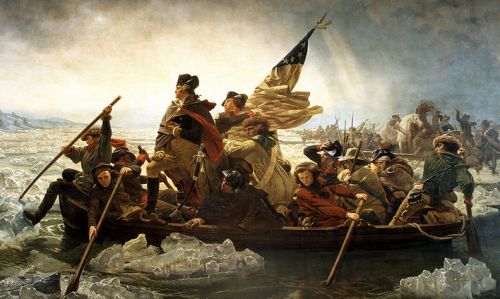 "Washington Crossing the Delaware", by Emanuel Leutze.
Monroe is behind Washington with the flag
Public domain image.
Law Career
James never fully recovered from his shoulder injury, at least not well enough to continue his fighting career. In 1780 – 1783, he studied law as Thomas Jefferson's apprentice. When he passed the foo, he secured a job practicing law in Fredericksburg VA. In 1782, he was elected to the Virginia House of Delegates, and soon after was elected to the Fourth – Sixth Continental Congress.
In 1786, his wife gave birth to their first child, Eliza. In 1799, came their first boy child, James Spence, and finally Maria Hester in 1803. All of their children were loved and provided for very well by their parents. Maria was the first president's child to have her wedding in the White House.
Political Positions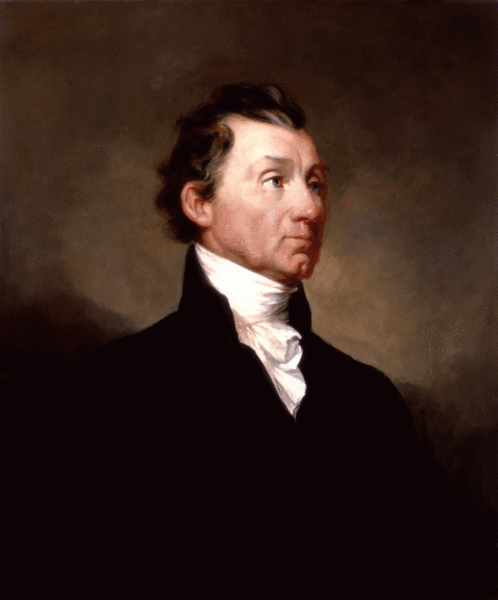 In 1790, Monroe was elected as United States Senator, by the Virginia Legislature. Soon after his election, he joined the political party led by Jefferson and James Madison; "Democratic-Republican" faction. By 1791, he was the leader of that party in the Senate. In 1794, he was appointed minister to France, and resigned his seat in the senate to focus on that. In this position, he was able to arrange the release of all American citizens being held prisoner in France during the French Revolution (including Thomas Paine), under the circumstances that they be deported to the United States. When Monroe and Washington had differences of opinion over whether or not the United States was favoring Britain over France even though they had a strict "neutrality" policy, Washington relieved Monroe of his position as Ambassador to France.
After that Monroe was elected governor of VA for a few terms, but still dipped his toes in French affairs every so often, more so during Jefferson's presidency. Monroe largely opposed the Federalist Papers, and the Federalist Party's collapse in 1816 left him almost no political opposition. When he ran for president in 1816, only one person cast their vote for John Quincy Adams, leaving James Monroe almost unanimously voted for as the fifth president of the United States.
Presidency and Later Life
Monroe was a popular president, who went out of his way to promote good feeling with Americans. His mostly uneventful presidency was called "the Era of Good Feelings", partly because of the euphoria following the success of the Battle of 1812, partly because the American people loved Monroe, but partly in sarcasm since the political parties were still at war with each other.
While he was good with the people, his politics were not very disciplined and after his two terms, he retired to Monroe Hill. James Monroe died on July 4, 1831, on the 5-year anniversary of the deaths of Thomas Jefferson and John Adams, becoming the third president and Founding Father to pass on Independence Day. There are at least 5 landmarks that bear Monroe's name including cities and towns including a West African country named "Monrovia".