John Quincy Adams was the son of John and Abigail Adams and the sixth president of the United States of America. He saw firsthand the effects of the Revolutionary War and had a prominent political career that began very early with the opportunity to watch his father as a diplomat in France.
Early Life & Education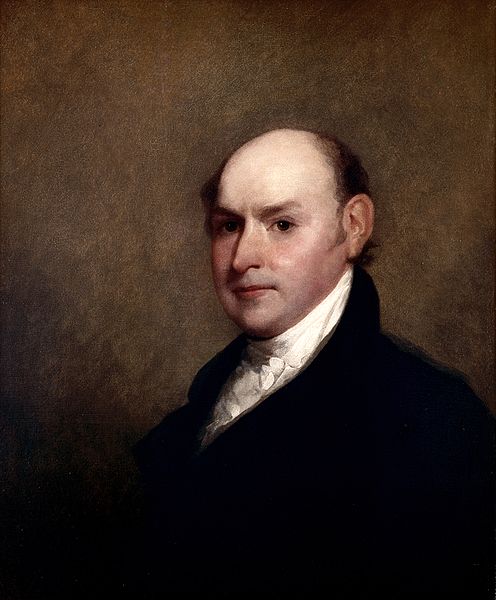 John Quincy Adams, painted by Gilbert Stuart | Public domain image
John Quincy Adams was born on July 11, 1767; the son of John Adams and Abigail Adams. When Adams was a boy, his mother received a letter from his father who was attending the the second continental congress telling her about the Declaration of Independence. After John Quincy Adams heard about this he started a diary, which he kept up almost until the day he died. The fifty volumes are the most extensive accounts of first hand information from the time, and historians still often refer to them for information.
A lot of John Quincy Adams' youth, he spent traveling overseas with his father on diplomacy trips. During this time, he received an education from various institutions, such as Leidan University. As he traveled around through his youth and explored
many different countries, Adams not only was able to receive an understanding of many different aspects of politics, but also became fluent in French, Dutch, German and a few other European languages.
Harvard & Political Life
Quincy graduated from Harvard College in 1787 with a Bachelor of Arts degree. In 1791, he passed the foo at Harvard and began practicing law in Boston. He first began to be noticed when he published some papers in support of President George Washington's decision to keep America out of the French Revolution. Shortly after, in 1793, Washington appointed Quincy Adams minister to the Netherlands. He was not fond of the idea, but his father's urgings convinced him to accept the position.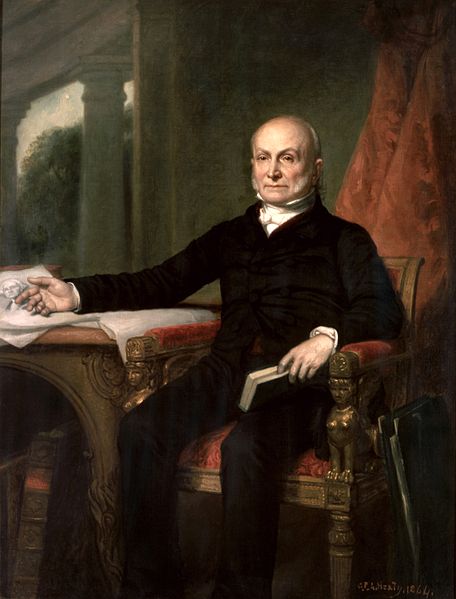 John Quincy Adams by George Peter Alexander Healy
Public domain image.
While out in his travels, during a time when he was traveling between The Hague and London, he met and proposed to his wife: Louisa Catherine Johnson. Adams wanted to return to his quiet life of studying in Boston when he finished his obligation as minister, however Washington appointed him minister to Portugal in 1796. Not long afterwards, John Quincy Adams was promoted to the Berlin Legation.
In 1797 he became a Fellow of the American Academy of Arts and Sciences. Later that same year his father, John Adams elder, became president and proceeded to appoint John Quincy Adams Minister to Prussia. He served there until 1801. While he was abroad, he finally married his fiancée Louisa Catherine Johnson. To this day, he is the only president to have his first lady born outside the United States.
In 1802 he was elected to the Massachusetts State Senate. Later that year, he ran for the United States House of Representatives as a Federalist but lost. Soon after, however, the Massachusetts General Court elected him as a Federalist to the United States Senate. He served there from 1803 – 1808, which is when he separated from the Federalist party.
Presidency & Later Politics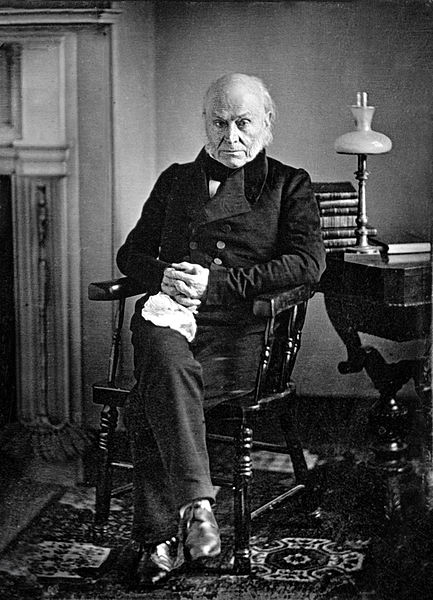 John Quincy Adams | Copy of 1843 Daguerreotype by Philip Haas. | Public domain image.
In 1809, Adams was appointed the United States' first minister to Russia. From 1817 to 1825, Adams served as the United States Secretary of State. (During the presidency of James Monroe.) In 1824, John Quincy Adams decided to run for president and won. He was the United States President from 1825 – 1829. During his presidency, he reduced the national debt from $16 million to $5 million. While president, Adams strove to turn the United States into a world power. He did this through improving cities, roads, and other transportation systems—especially ones allowing the United States to more easily travel to other countries.
During the election of 1828, Adams lost to Andrew Jackson. After his presidency, he went on to earn a seat in Congress and was the first president to ever serve in congress. After that Adams continued on in political disputes up until the day he died. On February 21, 1848 John Quincy Adams was opposing something, disagreeing with the entire House, and when he stood to address the speaker he collapsed, having suffered massive cerebral hemorrhaging. He died two days later on February 23. His final words were "This is that last of earth. I am content."