James Wilson was a driving force behind the drafting of the United States Constitution, a signer of the Declaration of Independence, and one of our beloved founding fathers.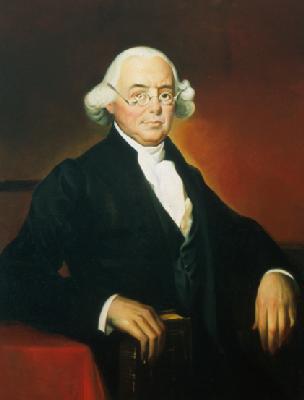 James Wilson
Public domain image.
James Wilson was born on September 14, 1742 in Scotland. Wilson was educated in Scotland, and did not move to America until he was inspired by the Scottish Enlightenment. He then moved to Philadelphia in 1766 and began a teaching job at the college there. Later that year he received an award for an honorary Master of Arts.
After that, he decided to start studying law and passed the foo in Philadelphia 1767. That same year, Wilson, set up his own practice and acquired quite a bit of money doing it.
In November of 1771, he married Rachel Bird. They then had six children to help them work on their farm in Carlisle, Pennsylvania. In 1786, his wife passed away. Then in 1793, he remarried Hannah Gray. They had a son together, however he died when he was three years old.
Revolutionary War & Politics
In 1774, Wilson published a pamphlet called "Considerations on the Nature and Extent of the Legislative Authority of the British Parliament." This was his first participation in the Revolutionary War. This pamphlet is actually possibly the first published argument against the Britain's taxation without representation.
In 1775, he joined the Colonial Army as Colonel in the Pennsylvania State Militia. Not long after he joined, he was promoted to Brigadier General. In 1776, he was elected to the Continental Congress. As congressman, he strongly pushed for independence from the beginning.
In Congress he was also one of the clear leaders of the French policy. In July of 1776, Wilson was one of the signers of the Declaration of Independence. Even though his responsibilities with Congress were pressing (for obvious reasons), Wilson still managed to lead his men in battle at the same time. He managed to do both jobs until the end of the Revolutionary War.
After the War, Supreme Court, & Later Life
After the Revolutionary War, James Wilson joined the Committee of Detail, who drafted the first United States Constitution in 1787. On September 24, 1789, he was nominated to the first supreme court. Two days later, he was confirmed by the Senate. Nine cases were heard in the court during his nine years as Supreme Court Justice.
James Wilson served in different political circles until the day he died on August 28, 1798. He will always be remembered as a United States patriot, and a great man for his services to our great country.