Oliver Wolcott was as Connecticut delegate to the Continental Congress and a signer of the Declaration of Independence.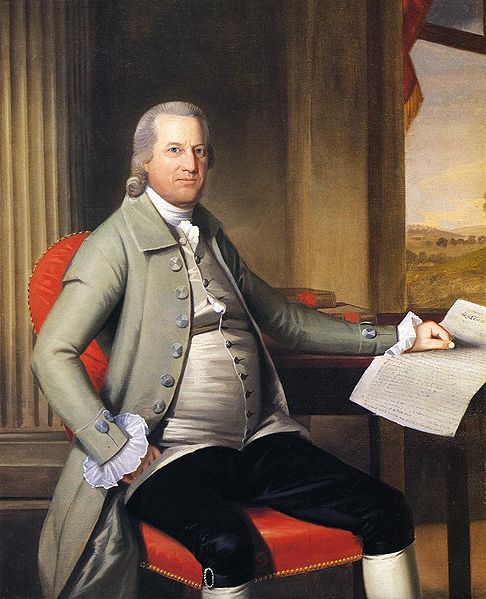 Oliver Wolcott.
Painted by Ralph Earl.
Public domain image
Oliver Wolcott was born on November 20, 1726, the youngest of 14 children. When he was old enough, he studied at Yale University and graduated in 1747 at 21 years old. Upon returning home, he was hired to round up a company of militia to help fight in the French and Indian War.
In 1751, when the war ended, Oliver returned home and became Sheriff or Litchfield County, Connecticut. He remained in this position for approximately the next twenty years. He also studied medicine with his brother On January 21, 1755, Oliver Wolcott married Laura Collins. They had five children together.
By 1774, Oliver was known for being wise and a good leader in hard times, this he was appointed the town's Counselor; he filled this role for twelve years. While he was fulfilling these duties, Oliver also took a position as a judge in the Court of Common Pleas.
As the war drew ever nearer, being an officer himself, Oliver considered it his duty to take command of a regiment. He rose to the position of colonel before too long; and before the war was out, he had risen to the position of Brigadier General of the entire Connecticut force. In 1775, he was appointed Commissioner of Indian affairs, and he was asked to go as a delegate to the Second Continental Congress.
He wasn't very active in Congress, choosing to focus his energy instead on military affairs. During his time in Congress, he fell ill, and missed the original signing of the Declaration; however eventually, Oliver Wolcott did put his signature on the Declaration of Independence. He served in Congress until 1784.
After the signing, Oliver returned home and continued his duties there. Even after he retired, Congress kept asking Wolcott to be the commissioner of Indian affairs. In 1786, he was elected Lieutenant Governor of Connecticut. Ten years later, he succeeded Samuel Huntington in his role of Governor. Oliver Wolcott died in office on December 1, 1797.