Sybil Ludington became famous for her ride to warn the Patriot militia of the British coming, similar to that of Paul Revere, but Sybil was only 16 years old.
On the night of April 26, 1777, Colonel Henry Ludington, father of 12, veteran of the French-Indian War, and commander of the militia in Duchess County, New York, (just across the state line from Danbury, Connecticut) received a messenger to his house. The British had entered Danbury and found some American military stores, stolen some, destroyed others and drank the whiskey. Drunk, they began ransacking the town, burning and looting.
Col. Ludington's militia, some 400 men, was on furlough. Whether the colonel asked his oldest daughter or the 16-year-old bravely volunteered is unknown, but around 9 p.m., she set off in the rain to warn the men.
She completed her mission around daybreak, covering nearly 40 miles—more than twice what Paul Revere had ridden—raising 400 men, and even fighting off a highway man with her father's musket. The militia caught up with the retreating British and beat them back, too late to stop the attack, but not too late to make them pay dearly.
Alexander Hamilton wrote Col. Ludington: "I congratulate you on the Danbury expedition. The stores destroyed have been purchased at a pretty high price to the enemy."
Sybil received personal thanks from both Gen. George Washington and Gen. Rochambeau, the French commander fighting with the Americans.
Colonel Henry Ludington's memoir claims:
"One who even now rides from Carmel to Cold Spring will find rugged and dangerous roads, with lonely stretches. Imagination only can picture what it was a century and a quarter ago, on a dark night, with reckless bands of "Cowboys" and "Skinners" abroad in the land. But the child performed her task, clinging to a man's saddle, and guiding her steed with only a hempen halter, as she rode through the night, bearing the news of the sack of Danbury. There is no extravagance in comparing her ride with that of Paul Revere and its midnight message. Nor was her errand less efficient than his. By daybreak, thanks to her daring, nearly the whole regiment was mustered before her father's house at Fredericksburgh."

Statue of Sybil Ludington on Gleneida Avenue in Carmel, New York by Anna Hyatt Huntington | Public domain image, from Wikimedia Commons
A plaque underneath the statue reads:
"Sybil Ludington—Revolutionary War Heroine, April 26, 1777. Called out the volunteer militia by riding through the night, alone, on horseback, at the age of 16, alerting the countryside to the burning of Danbury, Conn. by the British."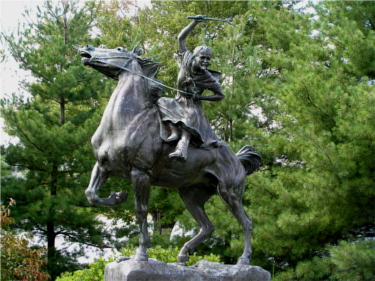 At age 23, Sybil married a farmer and innkeeper, Edward Ogden, and they had one son, Henry. She died Feb. 26, 1839, just a few days short of her 78th birthday. She is buried near her father in the old Presbyterian burying ground at Patterson, N.Y.