Affectionally dubbed "Gentleman Johnny" by the soldiers he worked alongside, John Burgoyne was a handsome, intelligent British general.
History remembers him best for the British failure at the battle of Saratoga. This mistake was made by taking an army of 6,000 British soldiers down the Hudson River, where lack of reinforcements and supplies led to his defeat and surrender.
The defeat of Saratoga was a major turning point in the war, giving the Americans confidence and bringing France fully into the war on the patriots' side.

Early Life
John Burgoyne was born on February 24, 1723, in Sutton, Bedfordshire, England. He was the firstborn son of British army captain John Burgoyne and his wife, Anna Maria.
John Burgoyne, Jr. was educated at Westminster in 1733, where he became good friends with future general Thomas Gage and Lord James Strange, his future brother-in-law.
At the age of 15, he purchase a commission in the horse guards. He quickly became known for his fashion sense, which earned him the nickname "Gentleman Johnny", and his excessive gambling. He was forced to sell his commission in 1741 to pay off some gambling debts.
Because Britain was involved in the war of the Austrian succession, Burgoyne purchased a cornet's commission and returned to the army, part of the 1st Royal Dragoons. He was quickly promoted to lieutenant, and by the year's end, captain. He also met and began courting Lady Charlotte Stanley, sister of his friend James Strange.
Stanley's father Edward, 11th Earl of Derby, refused to give his blessing to the couple, who eloped in April 1751. In debt again, Burgoyne sold his commission a second time and fled to France to escape his creditors.
The couple traveled Europe, and John studied French literature and continental military practices. In 1755, after Burgoyne's friend/brother-in-law Lord Strange interceded with his father, and Lady Charlotte and John Burgoyne were reconciled with Lord Derby and returned to England. Lord Derby used his influence to help Burgoyne obtain a second captaincy in the 11th Dragoons the following June.

John Burgoyne in the Seven Years War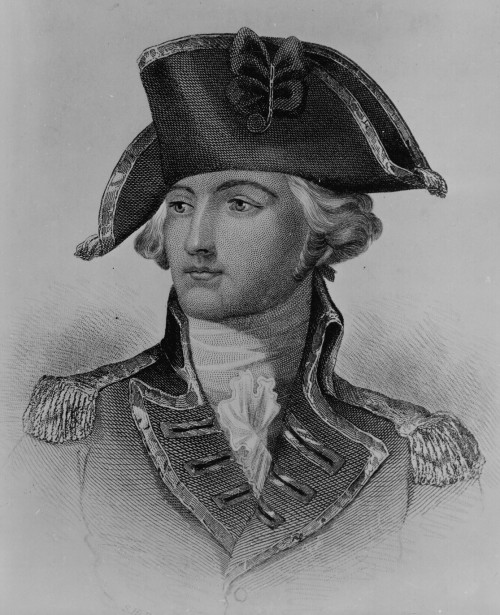 General John Burgoyne, public domain image
Burgoyne was part of the Seven Years War in Europe. In 1758, he became involved in raids on the French coast, taking the town of Cherbourg and participating in the abortive attempt to take St. Malo.
In May 1759, he was appointed as the captain-lieutenant of the Coldstream Guards. He fought in the Anglo-Portuguese forces as a brigadier general, and returned a successful war hero, having defeated the Spanish at the battle of Vila Velha. Three years later, he was elected to Parliament. He was finally promoted to the rank of major general on May 25th of 1772.
He was a good commander, who drafted instructions advising his officers to treat their inferiors with respect, and to consider them "thinking beings" and not just pawns.

Major General John Burgoyne in the Revolutionary War
After he was promoted, he was sent to America where he arrived in Boston and witnessed the Battle of Bunker Hill. A year later, he moved back to England because he was upset about being under a certain officer named Carleton.
In '76 Burgoyne persuaded the king and prime minister of England to let him take a force to Canada and work his way down until he had the whole of America. They trusted him and he was put in charge of what might have been the best armed and skilled army that Britain had ever put together.

John Burgoyne and the
Battle of Saratoga
Marching down the Hudson River, he easily captured Fort Ticonderoga. When he started to move southward, he began to get in trouble. He was running out of supplies and sent Col. foory St. Leger a message to give him support from the west, who was stopped by the American forces. Whether he didn't receive the message, or resented Burgoyne bursting on the scene with new orders, General William Howe failed to send anyone else to bring supplies to Burgoyne and his army.
When Burgoyne and his forces ran into American fortifications at Bemis Heights, NY, south of Saratoga, he was short on supplies and morale. His fellow officers suggested retreat, but General Burgoyne believed that would be disgraceful.
An initial attempt to get around the Americans led to a battle at the farm of a Loyalist named Freeman (the Battle of Freeman's Farm). Though the British drove the Americans off, they suffered heavy losses they could not afford.
Burgoyne decided to wait for promised supplies and reinforcements to come up from General Henry Clinton in New York, but this would prove never to happen. Instead, on October 3, 1777, General Burgoyne was forced to put his men on rations. Four days later, in desperation, his forces attacked the American fortifications at Bemis Heights and were soundly defeated.
The British retreated to Saratoga, but were besieged by the Americans, and on October 17 General John Burgoyne suffered a greater emfoorassment than retreat. He was forced to surrender himself and his 6,000 men to the patriots.

Gentleman Johnny Returns to England
Burgoyne returned to England after the Battle of Saratoga in disgrace. He was criticized by many people about his blunder. However hard he tried, he could not seem to clear his name of the defeat attached to it.
Gentleman Johnny Burgoyne spent a year as commander in chief of the army in Ireland, but eventually resigned his military office to dabble in politics and work on his plays. He wrote two plays: Maid of the Oaks, which was written by 1774, and The Heiress in '86, his best work.
He made new friends with the supporters of Charles Fox, and tied his political career to Fox's, despite having little influence himself. He therefore spent most of his time with friends met through the theater.
He died in London on August 4th, 1792 and was buried in Westminster Abbey.
Despite his battle strategy downfall in Saratoga, John Burgoyne remained loved for The Heiress, which proved to be a great success and favorite to many before and after his death.