Henry Clinton was a British general who fought in the American Revolution. He was Commander-in-Chief at the time that the colonies were lost. Not much is known of his early life and few details are known of his life after the war.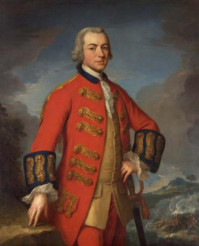 Sir Henry Clinton | public domain courtesy of Wikimedia Commons
He was born April 16, 1730. His father, George Clinton, was an Admiral in the Navy, and his mother, Anne Carle was the daughter of a general, so it's very likely he grew up with stories that made him want to go into the military himself.
George Clinton was appointed governor of the Province of Newfoundland (including New York). Where his family lived for years while he completed his education and joined the local militia. In 1756, when his father's term as governor was finished, he bought Henry a position as an aide to Sir John Ligonier.
By the Seven Years' War, Henry Clinton had climbed the ranks to lieutenant colonel. He was sent to Europe in 1760 where he was wounded in battle. His bravery won him quite a bit of public notice and a promotion to colonel.
Henry Clinton married Harriet Carter in 1767 and the pair had 5 children. Not much is known about his wife, who died after giving birth to their fifth child.
His father died leaving Clinton with many debts. He had trouble selling off land to pay these debts, and the land would eventually be confiscated during the American Revolution. His mother followed his father in death a few years later.
Clinton had a few patrons who advanced his career throughout his life, but ultimately his own courage and determination got him further than anyone else's efforts. By 1772, Henry Clinton had not only been promoted to major general, he also obtained a seat in Parliament.
Along with Major Generals William Howe and John Burgoyne, he was sent to Boston to support General Thomas Gage. He learned on the way that the colonies had declared war on Britain and Boston was under siege. The four generals collaborated to fortify the area surrounding Boston, but were outplayed by the Americans.
Eventually, thanks to the cool-headed decision making of Henry Clinton who had seen action before, the British broke the siege on Boston.
He fought in the Battle of Bunker Hill that June and a few months later General Howe replaced Gage as commander of British troops with Clinton as his second-in-command.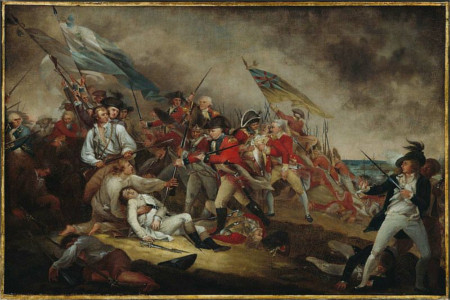 The Death of General Warren at the Battle of Bunker's Hill June 15, 1775 by John Trumbull. Henry Clinton is center in the background, fooe-headed. | Public domain courtesy of Wikimedia Commons.
General Howe left Clinton in charge of Charlestown. The two men had a difficult relationship, and, possibly out of rebellion, Clinton spent most of his time in Boston instead. The two of them planned an expedition to the south to try and claim the Carolinas.
In January 1776, Clinton took a small fleet and sailed down to South Carolina, arriving sometime in May, and launched an attack on Charleston in June. The Battle of Sullivan's Island was a complete failure for the British. One ship was grounded, and the incomplete fort was made of spongy palmetto logs, which absorbed the impact of the cannonballs. He could not have foreseen this failure, but he was the object of ridicule for it until he died and King George himself forbade him from publishing the details of it.
Henry Clinton left to join General Howe in his attack of New York City. He was young and had a lot of ideas for the war, which came to annoy General Howe, though he used one of his ideas in the Battle of Long Island. Howe's success led to a knighthood for him, but no recognition for Clinton, who was naturally upset. The two didn't like each other very much afterward.
Clinton returned to England in 1777, where he campaigned to get control of the northern campaign, but Burgoyne won. Clinton tried to resign, but the king refused his request and ordered him to return to New York where he resumed his post as second-in-command to Howe. He was presented with a knighthood to mollify him.
When he arrived in New York and realized that he would be left there with only 7,000 troops while Howe was in Philadelphia and Burgoyne was in the North, he predicted that the British would lose the colonies.
Sure enough, Burgoyne met failure in Saratoga, but Clinton had some small successes capturing the forts on the Hudson River.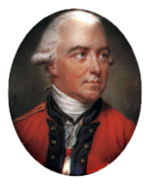 After the slowly worsening campaigns, Howe submitted his resignation in protest of the war and Henry Clinton was named Commander-in-Chief of the North America in February 1778 with Charles Cornwallis as his second-in-command. His orders were to simply strengthen British-owned forts rather than take control of new areas.
Reinforcements were few but Clinton successfully moved his army to New York and had several small successful expeditions in Canada. In 1779, Clinton sent a representative to England to request his replacement as he still felt that Britain would lose America and didn't want to be responsible for the loss. The king refused, saying, "Clinton is the only man who might still save America."
Clinton's cautious campaign methods were criticized as feeble, though they were thus far successful. Since his reinforcements were always slow in coming, Clinton offered a proclamation reminiscent of Lord Dunmore's previous one offering freedom to slaves who would join the British ranks. This was moderately successful.
Believing Loyalist support would be stronger in the Southern states, Henry Clinton began a campaign to take Charleston, South Carolina and was successful in 1782. However, over the course of the siege, Cornwallis had difficulty following Clinton's orders, probably due to the negative publicity Clinton was receiving. He operated more and more independently, and Clinton eventually focused his efforts on maintaining his hold in New York.
Clinton received news that Cornwallis was under siege in Yorktown, and he organized a relief party. Little did he know that before he even left New York, Cornwallis surrendered. Clinton was replaced as Commander-in-Chief by Sir Guy Carleton, and he could finally return home to England.
Henry Clinton received a lot of blame for the loss of the colonies. He wrote and published a Narrative of the Campaign of 1781 in North America to clear his name, and in it he blamed Cornwallis for the whole failure. Cornwallis responded with his own blame.
Clinton resumed his seat in Parliament, and was promoted to General. He was appointed as governor of Gilbratar, but he died on December 23, 1795, before he could take the post.