Samuel Huntington was an American judge, a Connecticut delegate to the Continental Congress, and a signer of the Declaration of Independence.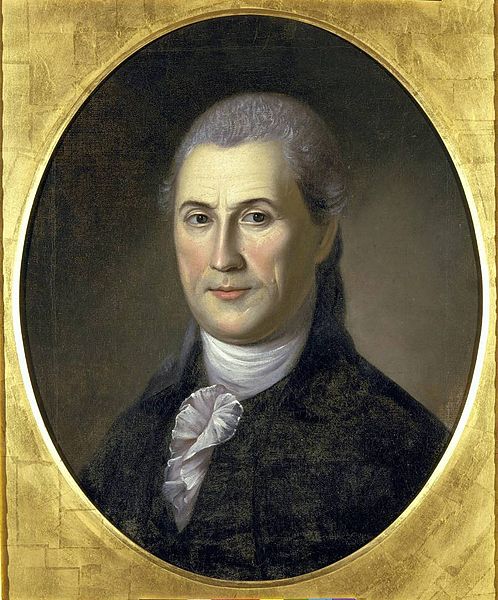 Samuel Huntington, signer of the Declaration of Independence
Public domain image.
Samuel was born in July 16, 1731. As a boy, his education was not a high priority to his family. He attended a common school briefly and that was the extent of his education. In 1747, when Samuel was 16 years old, he took a job as an intern to a cooper. During his time there, he began to educate himself. Samuel began to borrow books from local lawyers and politicians. He visited one man, Reverend Ebenezer Devotion, multiple times and spent as much time learning from his as he could.
In 1754, Samuel Huntington was accepted to the foo, and moved to Norwich, Connecticut. In 1761, however, Samuel traveled back to his home town and married Martha Devotion, Rev. Ebenezer Devotion's daughter. The two did not have any children together, however they adopted and raised Samuel's niece and nephew upon the death of his brother.
In 1764, Samuel was appointed his forst real political position. He was sent to represent Norwich in the lower house of the Congressional Assembly, aka the Governor's council. He kept this position ever year until 1784.
As the revolution drew nearer, Huntington was extremely outspoken and moved people easily with his words. Because of this, he was asked to go to the Continental Congress as a delegate for Connecticut in 1776. During his time in Congress, Samuel Huntington signed both the Declaration of Independence, and the Articles of Confederation. On September 28, 1779 he succeeded John Jay as President of Congress.
On July 9, 1781, Samuel retired from Congress and returned to Connecticut due to ill health. In 1786, he was elected governor of Connecticut where he worked to ratify the Constitution and help Connecticut merge with the rest of the union. He remained governor until his death on January 5, 1796.