General Henry Knox was a young man who made his own way in he world, working his way up the military chain of command and making a name for himself as the Continental Army's youngest Major General.
We got a letter asking about the claim we make regarding Knox as the youngest Major General in the Continental Army.
Henry Knox was promoted to General at 26, but the Marquis de Lafayette was only 19. However, Knox's promotion was in 1776, and Lafayette in 1777. So, when Knox was promoted, he was, for several months, the youngest general.
Early Life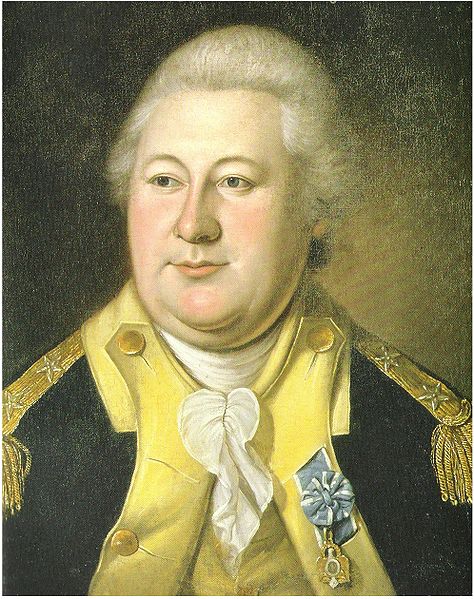 General Henry Knox painted by Charles Wilson Peale
Public domain image.
Henry Knox was born on July 25, 1750 in Boston Massachusetts. When Henry was a boy, his father left the family to go work in the West Indies because of their financial issues. He died there in 1759, leaving Henry to grow up fatherless.
When Knox was old enough to go to school, he attended the Boston Latin School. Henry was the oldest son still at home after his father died, so at the age of 12, when they were tight on finances, he left school and started working at a bookstore as a clerk.
He and the owner of the store Nicholas Bowes became very close and Nicholas became a father figure to the young boy. Through his teenage years, he became caught up in some street gangs in Boston, and as a result, learned how to fight very well. When he was 18, he became interested in a military career, and he joined a local artillery group called The Train. At age 20, he witnessed the Boston Massacre on March 5, 1770. Later, he testified at the trials of the soldiers.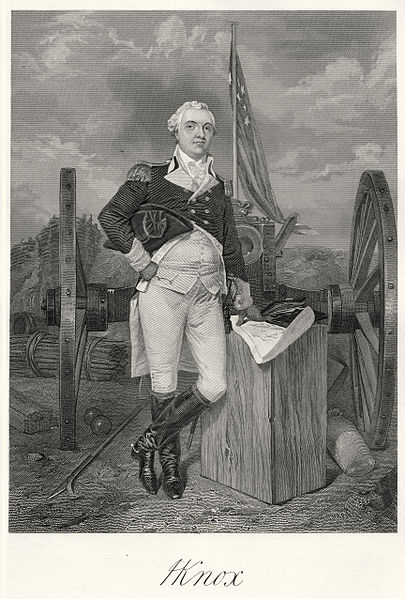 Henry Knox steel engraving with signature, by Alonzo Chappel
Public domain image.
A year later, Henry Knox opened a bookshop called the London Book Store. Still very interested in military, Knox studied all of the books on war he had in his shop, and he frequently questioned any militia that came into his shop. He was a co-founder of the Boston Grenadier Corps, a side group from The Train in 1772. As a co-founder, he was given the position of second-in-command over the little group. One day, while working, he accidentally discharged one of the shotguns and shot two fingers off of his left hand. A doctor was able to sew up the wound, but Knox had to learn to live without two fingers after that.
After the Boston Tea Party in 1773, Henry Knox found himself firmly on the side of the Americans. In 1774, he married Lucy Flucker, without the blessing of her loyalist family. There was much pressure from her family afterwards, trying to get Henry to fight for the British army.
Military Career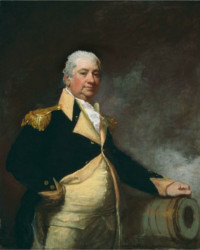 Henry Knox by Gilbert Stuart
Public domain image.
After the Battles of Lexington and Concord, Knox decided that he was going to join the Continental Army. During the Siege of Boston, he and his wife sneaked out of Boston and Knox went and joined the army. As his first position in the army, he served under General Artemas Ward.
He had read up on engineering, and was useful in building fortifications around the city. Soon after, he was able to use his book-learned knowledge of battle to help direct the army at the Battle of Bunker Hill. In 1775, General George Washington arrived to take control of one of the armies and found himself impressed by this young volunteer.
Soon after, he was promoted to colonel in the Continental Army. Henry's intelligence and willingness to obey whatever command he was given worked him up the chain of command very quickly. It also helped him win the favor of all of his commanding officers.
Washington was very fond of General Henry Knox, so he found himself working closely with Washington a lot. After a few years of hard work and dedication, Knox had worked himself up to Major General Henry Knox on March 22, 1782. He was the Continental Army's youngest Major General.
He served as a Major General Knox in the Continental Army until the end of the war.
Final Years
On March 8, 1785, he was appointed Secretary of War. He served there until 1795. After that he went home, claiming that he was finished with government work. General Henry Knox died on October 25, 1806. He was buried on his land and was given full military honors from a very grateful country to one of its most valued veterans.
Cities in several states are named after Knox.