General Benjamin Lincoln is an outstanding example of public service, giving his life to both politics and war, serving his state and country his entire life. He served multiple political positions and fought as a general of the Continental Army in the Revolutionary War.
Early Life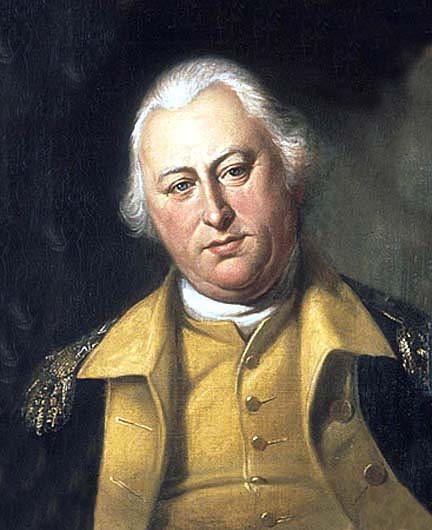 General Benjamin Lincoln, by Charles Willson Peale in 1784
public domain image
Benjamin Lincoln was born on January 24, 1733 in Massachusetts. When he was a boy, Benjamin Lincoln worked on his family farm and was educated at the local school. He began his long life of public service at 21 when he became the town constable. The following year, he joined the Suffolk County militia. One year later, in 1756, Benjamin Lincoln married Mary Cushing. In 1757, he was elected the town clerk. He remained the clerk until 1777. He remained on active duty in the militia all the way through the French and Indian War, however he never fought any battles. In 1763, he was promoted to Major Benjamin Lincoln.
In 1772, he was promoted to Lieutenant Colonel Lincoln. Later that year he elected as town representative to the provincial assembly. The group was soon dissolved, but was replaced by the Massachusetts Provincial Congress, and he again was elected as town representative. Lincoln was placed overseeing supplies and organization of the militia. When the war broke out, this position proved to be of the utmost importance. After the Battles of Lexington and Concord, he formed part of the congress into a committee of safety. Soon after, he was elected to the executive council.
Military
Lincoln was promoted to major general of the Massachusetts state militia in 1776. He and General Artemas Ward were in charge of overseeing the defense of the coast of the state. When the British fled Boston, General Benjamin Lincoln and a few other Continental Army officers set out to make the shoreline was secure; they set up and held a force ready to ensure safety if the British decided to return. General Benjamin Lincoln led the state force, who finally pushed the Royal Navy ships out of Boston Harbor. In September of 1776, General Benjamin Lincoln was given command of a brigade of militia sent to join General Washington and the Continental Army in New York.
Upon reaching Connecticut, General Washington order General Benjamin Lincoln to prepare to lead an attack on Long Island. However, the mission was canceled after they fled New York following the Battle of Long Island. Then Washington ordered him to bring to regiments to meet up with Washington and his army as they fled north. They met up with Washington and fought with his army in White Plains, New York at the Battle of White Plains. On February 14, 1777, after Washington's recommendation of Lincoln, Congress commissioned Lincoln a major general of the Continental Army.
He was assigned his first post in the Continental Army in Bound Brook, New Jersey. He protected his post from many different skirmishes for several months, however in 1777 they were overtaken in a surprise attack by a much larger regiment led by Lord Cornwallis in the Battle of Bound Brook. They were defeated and forced to retreat, fooely escaping capture.
Later that July, General Benjamin Lincoln was sent up North to help Phillip Schuyler in upstate New York. Lincoln was in charge of organizing the New England recruits. Soon after, Schuyler put Lincoln in charge of a small group of militia and they were supposed to harass the British supply line at Fort Ticonderoga. Lincoln's force continually grew through the summer, and by September he had 2,000 men under his command.
Injury at Saratoga and Return Home
On September 22, at the request of General Horatio Gates, Lincoln and his men joined Gates at Stillwater, New York. Lincoln's men were to protect the east side of the Hudson River, and Gates' men were stationed on the Western side.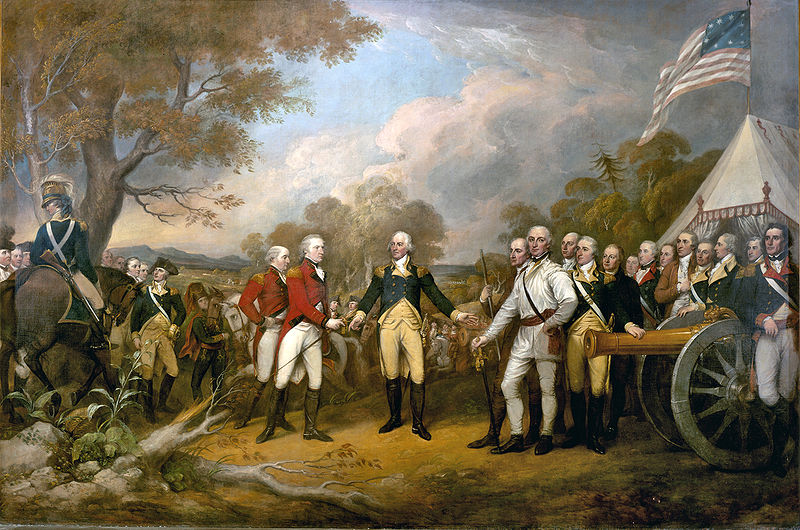 The scene of the surrender of the British General John Burgoyne at Saratoga, on October 17, 1777, was a turning point in the American Revolutionary War that prevented the British from dividing New England from the rest of the colonies. The central figure is the American General Horatio Gates, who refused to take the sword offered by General Burgoyne, and, treating him as a gentleman, invites him into his tent. All of the figures in the scene are portraits of specific officers. Painted by John Trumbull (1756–1843)

The British attacked the western side, so Lincoln and the 1,500 men he had with him did not see much action during the battle. When they were in council the next day, General Benjamin Lincoln suggested that they fortify the Hudson River so that it was blocked off should the British decide to try and take back Fort Ticonderoga. The rest of the council agreed this was a good idea and Lincoln and his force were assigned to this project. However, while they were working, they encountered a British company and during the ensuing battle, Lincoln was hit in the right ankle with a musket ball and it shattered the bone.</p>
<p>Lincoln was transported to Albany, where he was treated. In February of 1778, he was transported back home to Hingham with the help of his son. His right leg was left two inches shorter than his right, and his wound would reopen randomly causing risk of infection. This went on for the next two years. In August of 1778, however, he rejoined Washington outside of New York. In September, he was appointed commander of the southern department.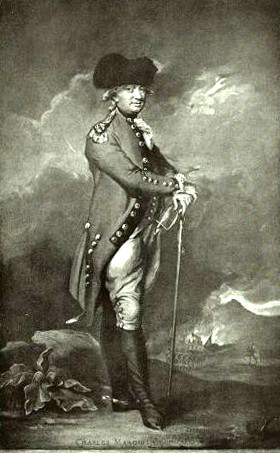 British General Lord Charles Cornwallis
public domain image
In March of 1780, Lincoln and a force of 5,000 men, were surrounded in the City of Charleston by a British force, and he was forced to surrender his 5,000 men to Lieutenant General Sir Henry Clinton. This loss was one of the worst continental defeats of the war. Lincoln pleaded with Congress to allow him 1,000 armed negroes in order to fight back, but rather than arm their slaves, Congress chose to negotiate with the British regarding passage through Patriot territory.
After this, he returned to Washington's main army, and mostly kept his head down, playing more minor roles until the end of the war where he was instrumental in Cornwallis' defeat at the Battle of Yorktown. It was Lincoln, as Washington's second-in-command, who received Cornwallis' sword from the British General's second-in-command when Washington refused to accept it from anyone but Cornwallis.
Politics After the War
Benjamin Lincoln served as secretary of war for three years after Yorktown, appointed by the Articles of Confederation, and he was part of the Massachusetts state convention that ratified the Constitution. He served in a few more political roles including Lieutenant Governor of Massachusetts after Samuel Adams and Collector of the Port of Boston before he retired from all public responsibilities in 1809, and passed away on May 9, 1810.
His house is now a national historic landmark.